Friends and family bid farewell to Chu Ko Liang
Friends and family yesterday bid farewell to entertainer Hsieh Hsin-ta (謝新達), better known as Chu Ko Liang (豬哥亮), who brought laughter to many with his coarse humor and slapstick.
About 2,000 fans, friends and entertainers, including Chang Fei (張菲) and actress Amber Kuo (郭采潔), paid tribute to the entertainer at his funeral — which cost an estimated NT$5 million (US$164,468) — in New Taipei City's Banciao District (板橋) yesterday.
Hsieh, a presenter, singer and actor, died on May 15 of liver failure induced by cancer. He was 70.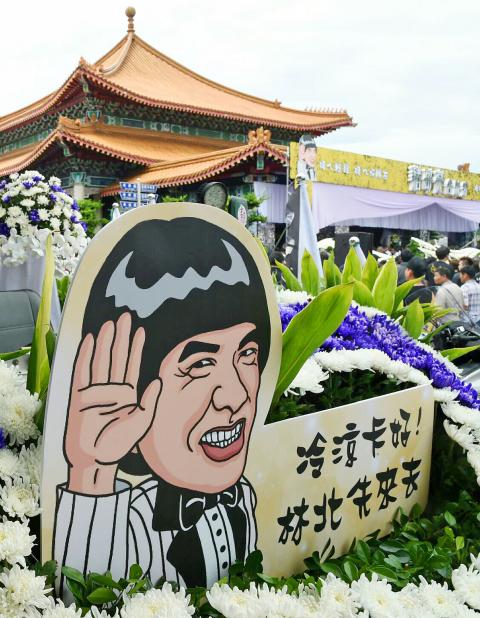 Flowers surround a caricature of entertainer Hsieh Hsin-ta, better known by his stage name, Chu Ko Liang, at his funeral in New Taipei City's Banciao District yesterday.
Photo: Chung Chih-kai, Taipei Times
His eldest son, Hsieh Shun-fu (謝順福), said the funeral was meant to be a festive occasion, because his father "wanted everyone to be happy."
A memorial video depicting the life of the entertainer was aired at the start of the service, which opened with his words prefacing his song A Performance (一場、一場表演).
The video showed family members, including his daughter Jeannie Hsieh (謝金燕), a popular pop singer, and the reconciliation between father and daughter at his hospital bed.
There was also a clip showing several of his children, including Jeannie Hsieh, attending Hsieh Hsin-ta's wedding with his third wife, signaling that family members had put a longstanding feud behind them.
There were also blessings from many of his best friends, including celebrity couple Yu Tien (余天) and Lee Ya-ping (李亞萍), as well as movie director Chu Yen-ping (朱延平).
More than a dozen old songs favored by the entertainer, including By Tamsui Riverside (淡水河邊), were played by a band at the service, which featured white and gold colors.
Despite the celebratory mood, Hsieh Shun-fu was in tears when he expressed his appreciation to those in attendance and asked: "Daddy, are you happy to see all your friends here?"
Hsieh Shun-fu was born from Hsieh Hsin-ta 's first marriage. He had two sons and three daughters from his three marriages, and another daughter out of wedlock.
Chu Ko Liang was a household name, but struggled throughout his life with a gambling addiction.
At one point he amassed gambling debts reported to be NT$1 billion that forced him into hiding for 15 years until 2010.
He was diagnosed with colon cancer in 2014, but rejected treatment so he could continue to make movies and work on other projects.
Comments will be moderated. Keep comments relevant to the article. Remarks containing abusive and obscene language, personal attacks of any kind or promotion will be removed and the user banned. Final decision will be at the discretion of the Taipei Times.