Formosat-5 launch imminent
SPACE RACE: Once it enters orbit, the satellite will be invaluable for disaster relief and prevention, national security and international technological exchanges, an official said
Taiwan's first domestically designed satellite, Formosat-5, is scheduled for launch in late August, according to sources.
It is believed that Elon Musk's Space Exploration Technologies Corp (SpaceX), the company contracted to launch it, will soon send official confirmation of the launch date to Taiwan, sources said.
The satellite cost about NT$3.7 billion (US$121.71 million) to make and is to embark on a five-year observation mission around Earth.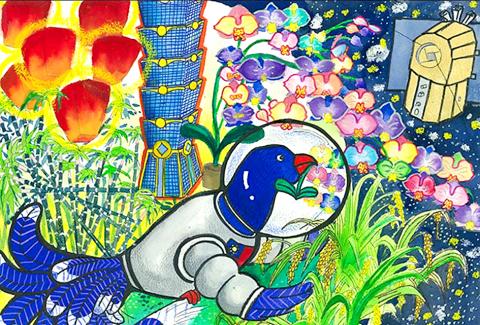 A painting by elementary-school student Chu Chia-yin that is to be printed on the side of the rocket that is to launch the Formosat-5 satellite is shown in an undated photograph.
Photo courtesy of the National Space Organization
The satellite's launch was initially scheduled for May 2015, but has been repeatedly delayed.
The satellite missed its latest launch date, in October last year, one month after a SpaceX rocket for an Israeli satellite exploded during a static test-fire, temporarily halting all launches.
After lifting the halt on missions this year, SpaceX informed the National Applied Research Laboratories (NARL) that Formosat-5 would launch in late August, and Taiwan should begin preparations, a source familiar with the project said.
Personnel involved in the project are under orders to clear their schedules for that period, the source added.
Taiwan is expecting to receive SpaceX's confirmation for the launch date imminently because according to SpaceX's schedule, Formosat-5 must be shipped to the US at least 40 days prior to its lift-off, another source said.
When asked for comment, NARL refused to confirm or deny the launch date, but said it will inform the public via the proper channels once it receives official notification from SpaceX.
The satellite is second on SpaceX's launch schedule from Vandenberg Air Force Base in California, after its launch later this month of Iridium NEXT satellites for Iridium Communications Inc.
Under the terms of its contract, SpaceX is allowed a six-month grace period for delays, after which it is obliged to pay 1.25 percent of the contract for each month of delays up to a maximum of eight months.
SpaceX's six-month grace period finished in August last year.
National Space Organization Deputy Director-General Yu Shiann-jen (余憲政) said the agency is focused on launching Formosat-5 as soon as possible, and would address the issue of compensation at a later time.
The Falcon 9 rocket that is to deliver the Formosat-5 into orbit will have "Taiwan" printed on its side along with the names of governmental organizations and other groups involved in its launch, he said.
A painting submitted by a student at New Taipei City's Chengong Elementary School, Chu Chia-yi (朱嘉尹), that features the Formosan blue magpie and Taipei 101 is also to be painted on Falcon 9 prior to the launch, Yu added.
After entering orbit, Formosat-5 is to pass over Taiwan once every two days, and the data it obtains will be invaluable for scientific research, disaster prevention and relief, national security, environmental monitoring and international technological exchanges, he said.
Comments will be moderated. Keep comments relevant to the article. Remarks containing abusive and obscene language, personal attacks of any kind or promotion will be removed and the user banned. Final decision will be at the discretion of the Taipei Times.