NPP urges end to retirees' holiday bonus
CONTRADICTORY: The NPP says there is no law requiring the payment of holiday bonuses to retired public servants who receive a monthly pension of NT$25,000 or less
The Executive Yuan should not monetarily reward retired public servants at next year's Lunar New Year holiday, because such payments lack a legal basis and run counter to efforts to push for pension reform, the New Power Party (NPP) said yesterday.
As the first cross-caucus negotiation round drew to a close yesterday, the NPP held a news conference in Taipei to promote its pension reform platform.
Referring to a directive issued last week by Premier Lin Chuan (林全) to continue paying holiday bonuses to former public servants whose monthly pension is less than NT$25,000 (US$822.34), NPP caucus convener Hsu Yung-ming (徐永明) said the NT$25,000 threshold was set by the Executive Yuan to justify the payments as they are not stipulated in any law.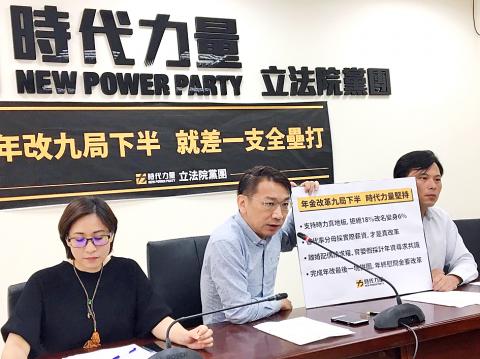 New Power Party legislators Kawlo Iyun Pacidal, left, Hsu Yung-ming, center, and Huang Kuo-chang, who is also the party's executive chairman, hold a news conference on pension reforms and year-end bonuses in Taipei yesterday.
Photo: CNA
The Executive Yuan last year resolved to stop issuing holiday bonuses to retired civil servants receiving a pension of more than NT$25,000 for the Lunar New Year, the Dragon Boat Festival and the Mid-Autumn Festival.
The rule change is expected to save the government NT$870 million annually.
Lin's order triggered speculation that the government is attempting to appease civil servants to avoid intensifying the already strong opposition to pension reform efforts.
During the regular legislative session, which wrapped up last month, the NPP proposed that the budget for holiday bonuses be slashed, but the proposal was vetoed, Hsu said.
The Executive Yuan should scrap the plan to bring its policy in line with pension reform efforts, he said.
NPP Executive Chairman Huang Kuo-chang (黃國昌) also called for the "total abolition" of the 18 percent preferential interest rate on savings accounts for retired public servants hired before 1995.
According to a draft put forward by the Presidential Office's Pension Reform Committee, this group of pensioners — who under the old pension system had claimed their pension in full — would still receive a 6 percent interest rate after a proposed civil servant pension bill is passed, in addition to a proposed bottom limit for pensions received by public servant, set at NT$32,000.
"We understand that some retired civil servants need to be taken care of, but that is covered by the 'bottom limit,'" Huang said.
The NPP has proposed setting the lower limit for civil pensions at NT$22,208, the median value of people's disposable income, he said.
Huang called on legislative caucuses not to leave any "loose ends" by allowing former civil servants to keep a 6 percent interest rate, saying that otherwise they would only be going halfway on reform efforts.
Comments will be moderated. Keep comments relevant to the article. Remarks containing abusive and obscene language, personal attacks of any kind or promotion will be removed and the user banned. Final decision will be at the discretion of the Taipei Times.