Review of forward-looking plan urged
'AUTHORITARIANISM': A light rail project that costs NT$30 billion was described with a few hundred words, suggesting a hasty process, publisher Rex How said
Publisher and former national policy adviser Rex How (郝明義) has launched an online petition urging the government to conduct a thorough review of and hold a public debate on the Forward-looking Infrastructure Development Program to prevent unnecessary spending.
The eight-year, NT$882.49 billion (US$29.24 billion) project is expected to be approved in the extraordinary legislative session starting tomorrow, but How and a coalition of campaigners yesterday launched a signature drive to call on the government to re-examine the program.
They asked the government to elucidate the necessity of each of the infrastructure projects in the program, their source of funding, and benefit and social impact, as well as possible alternatives to each program and an estimated number of jobs to be created.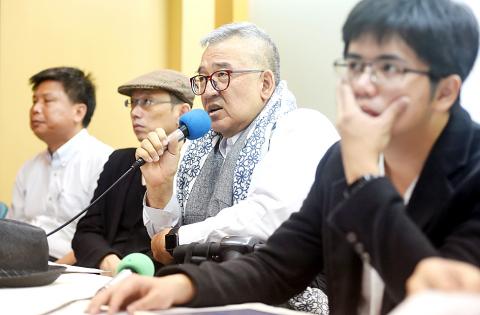 From left, National Chengchi University professor Hsu Shih-jung, National Taiwan Normal University assistant professor and artist Yao Jui-chung, former national policy adviser Rex How and Watchout chief executive Lin Tzu-yi attend a news conference in Taipei yesterday.
Photo: Liao Chen-huei, Taipei Times
The drive was launched through the National Development Council's policy discussion forum, as the government is required to reply to any petition launched on the forum which is signed by more than 5,000 people within two months.
Campaigners include former Democratic Progressive Party legislator Lin Choi-shui (林濁水), National Chengchi University land economics professor Hsu Shih-jung (徐世榮), government watchdog site Watchout chief executive Lin Tzu-yi (林祖儀) and democracy activist Dennis Wei (魏揚).
A description running only a few hundred words was provided for a NT$30 billion light rail project in Hsinchu City in the program's official document, suggesting a hasty budgeting practice that failed to take into to account the necessity of proposed projects, How said.
"A draft act on the program received the approval of a legislative committee, but not a single word of the act was modified," How said, criticizing the review process.
National Association for the Promotion of Community Universities secretary-general Yang Chih-pin (楊志彬) said most major water and flood management infrastructure were built in the past decade and there should be no urgency to build new water supply facilities as the program emphasizes.
"The government should instead focus on water conservation and pollution remediation to ensure environmental and ecological protection," Yan said.
The program might result in more spending than expected because extra construction costs often emerge in public infrastructure projects, artist Yao Jui-chung (姚瑞中) said, citing additional spending in more than 90 percent of public construction projects last year.
Yao, who has published five books documenting the so-called "mosquito halls" — a reference to buildings that are underutilized — said the government risks creating more underutilized infrastructure if it does not thoroughly review the program.
Hsu criticized the program for what he said its inferior planning and an authoritarian decisionmaking process.
The program's official report is shallow in content, Hsu said, adding that it might have been hastily drafted by think tanks and consultancy firms.
The program, like all major construction projects, has to undergo a four-step process that involves submission of plans for construction, environmental protection, land use and expropriation, but the Executive Yuan has approved the construction portion of the program before the other plans were submitted, which would make the reviewing of the remaining three portions of the program merely a rubber-stamp process, he added.
"This is the authoritarianism that the Chinese Nationalist Party [KMT] established. It was anticipated that the Democratic Progressive Party administration would make some changes, but nothing has changed," Hsu said.
Comments will be moderated. Keep comments relevant to the article. Remarks containing abusive and obscene language, personal attacks of any kind or promotion will be removed and the user banned. Final decision will be at the discretion of the Taipei Times.