New Southbound Policy: 'Southbound' plan forging connectivity in the region
ZEROING IN: The nation should focus on Indonesia and India in a bid to diversify exports and pivot away from unsustainable goods and services, an official said
The government has gained headway in forging ties with South and Southeast Asia, as well as Australia and New Zealand, a year after unveiling its "new southbound policy" aimed at expanding the nation's export markets and diversifying its products.
The pursuit of better regional connectivity aims to lay a healthy and lasting foundation between Taiwan and the 18 target nations, despite political reshuffles, Minister Without Portfolio John Deng (鄧振中) told the Taipei Times, as a change in administration often means a shake-up in policy direction, and backroom wrangling often dictates the terms of cooperation.
MULTI-FACETED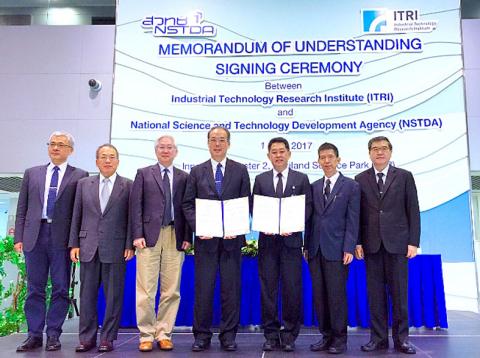 Industrial Technology Research Institute chairman Wu Tsung-tsong, third left, and president Liu Jonq-min, fourth left, display a memorandum of understanding on innovative application cooperation they signed with Thailand's National Science and Technology Development president Narong Sirilertworakul, third right, on Thursday last week in Thailand.
Photo courtesy of Industrial Technology Research Institute
Taiwan's dialogues with governments in the target nations have grown broader, more frequent and at higher levels, and the government is in talks to sign and update investment protection agreements to safeguard the interests of Taiwanese companies.
The endeavor requires delicacy and tenacity due to the nation's lack of formal diplomatic ties with any of the target countries, as all stand by the "one China" policy.
Regardless, Taiwan has forged better connectivity in the region as evidenced by the fast-growing exports, which amounted to US$26.473 billion in the first five months of this year, a 13.5 percent increase from the same period last year and outpacing the overall growth of 12.5 percent, according to Ministry of Finance data.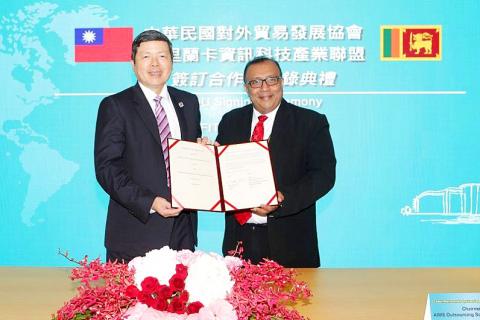 Taiwan External Trade Development Council president and chief executive Walter Yeh, left, and Sri Lanka Federation of Information Technology Industry chairman Kithsiri Manchanayakke present an agreement to develop business relations between Taiwan and Sri Lanka on Thursday last week in Taipei.
Photo courtesy of TAITRA
ASEAN, which accounted for 18 percent of outbound shipments last month, has grown into the second-largest export destination after China, the ministry said.
Apart from government agencies, Taiwan's state-run enterprises, financial institutions, trade groups, research bodies and local governments have all lent force to the enhancement of regional connectivity.
Today, 25,000 Taiwanese firms have a presence in ASEAN markets and nearly 90 are in India, said James Huang (黃志芳), chairman of the Taiwan External Trade Development Council (TAITRA, 外貿協會), the nation's main trade promotion body.
The figures suggest ample room for improvement and exploration given the region's rapidly expanding population and economy, he said.
State-run Taiwan Sugar Corp (台糖), Taiwan Fertilizer Co (台肥), Taiyen Biotech Co (台鹽), petroleum refiner CPC Corp, Taiwan (台灣中油), shipbuilder CSBC Corp, Taiwan (台灣國際造船) and China Steel Corp (中鋼) have taken the lead and invested in 31 projects in ASEAN, the Ministry of Foreign Affairs' Web site shows.
TAITRA inked a memorandum of understanding with the Federation of Information Technology Industry Sri Lanka in Taipei last week to boost economic exchanges and explore investment opportunities between the two sides.
The information and communication technology (ICT) industry is expected to drive 40 percent of Sri Lanka's GDP in the next five years and lift the competitiveness of its education, manufacturing, medical and transportation sectors, TAITRA president and chief executive officer Walter Yeh (葉明水) said on Thursday last week.
ICT is Taiwan's industrial strength, accounting for 30 percent of all exports.
Federation chairman Kithsiri Manchanayakke expressed hope that the memorandum could serve as a cornerstone for more economic and cultural exchanges.
Similarly, Taiwan's state-backed Industrial Technology Research Institute signed a memorandum of understanding with Thailand's National Science and Technology Development Agency last week to promote innovative application cooperation between the two nations.
Under the pact, the two sides are to leverage their strategic advantages in helping Taiwanese firms in Thailand participate in the Thai government's Eastern Economic Corridor development project, the institute said.
The scope of cooperation includes assessing private-sector needs, identifying technological development trends and providing research support, it added.
In addition, the government has set up "Taiwan Desks" in the Philippines, India, Myanmar, Thailand and Vietnam to help Taiwanese businesses navigate the logistics of investing in those nations.
NEED TO FOCUS
Taiwanese firms generally know little about South and Southeast Asian nations due to the pro-China policy of the former Chinese Nationalist Party (KMT) administration, Taiwan Institute of Economic Research vice president Chiou Jiunn-rong (邱俊榮) said in an interview last month.
The new southbound policy could grow hand-in-hand with the government's pursuit of a new economic model for Taiwan, Chiou said, as the focus on producing intermediate goods and services is growing increasingly unsustainable due to thin margins and quick change in consumer taste.
Chiou said the government should underscore India and Indonesia in a bid to help local industry upgrade and diversify exports because Taiwan, a late and modest starter, cannot build a meaningful presence in all of the 18 target markets.
"While the more, the better, I do not think Taiwanese firms can have meaningful expansions in all 18 nations. India and Indonesia should suffice as the main targets," Chiou said.
Huang agreed, saying the inclusion of India helps set the new southbound policy apart from the policies of former presidents Lee Teng-hui (李登輝) and Chen Shui-bian (陳水扁).
With a population of 1.3 billion and GDP growth of more than 7 percent, India poses vast business potential for Taiwanese firms that are seeking to cut dependence on China and deepen their presence elsewhere in Asia.
Taiwanese tire maker Cheng Shin Rubber Industry Co (正新橡膠), which sells its products under the Maxxis brand, has received orders filled up to 2019 after setting up plants in India, Huang said.
Today, 900 million Indians use mobile phones, but only 250 million of them are smartphones, offering huge and immediate business potential for Taiwanese smartphone vendors, India-Taipei Association Director-General Sridharan Madhusudhanan said last month.
The opportunity extends to flat-panel television makers because there are still 350 million cathode-ray tube TVs in India, Madhusudhanan said.
FINANCIAL LINKS
State-run banks have also boarded the new southbound policy bandwagon with the addition of eight branch offices in the target nations over the past year, Financial Supervisory Commission data showed.
The Export-Import Bank (輸出入銀行) has set up a syndicated loan platform for exports of systems integration projects, turnkey projects and engineering solutions, and plans to raise its capital to NT$32 billion (US$1.06 billion) next year.
The three major credit guarantee funds — the Small and Medium Enterprise Credit Guarantee Fund of Taiwan, the Overseas Credit Guarantee Fund and the Agricultural Credit Guarantee Fund — have set aside NT$50 billion to meet related financing needs.
The offers of guarantees and insurance for trade contracts by the Export-Import Bank in particular have made local lenders more willing to extend loans to Taiwanese firms with operations in the region, the commission said.
Taiwanese banks have benefited from the new southbound policy, with earnings from the region climbing to a new high of NT$1.72 billion in the first quarter, the commission said, adding that it has approved more applications to set up new banking outlets in the region.
Meanwhile, local administrators in Taoyuan, Taichung, Tainan and Kaohsiung have supported the call for southbound expansions by taking business representatives with them to visit ASEAN and South Asian nations to win orders.
For instance, Taichung plans to promote exports of machinery tools to capitalize on the trend of "smart" production, while cities in the south are offering to sell processed agricultural products to the region because the nation enjoys advantages in food processing technology.
RISKS
However, not all "southbound" ventures generate profit.
Continental Engineering Corp (大陸工程), the flagship unit of Continental Holdings Corp (欣陸控股), is to pull out of India after it wraps up its remaining projects this or next year, the group's chief executive officer Ken Hung (洪義乾) said last month.
Continental Engineering has since 2005 worked on civil construction projects in India, but regulatory and bureaucratic barriers have brought disruptions and made its efforts unprofitable, Hung said.
The firm would avoid doing business in emerging Asian nations in the future, because expansion to unfamiliar territory requires vast financial and human capital and is highly risky, he said.
Comments will be moderated. Keep comments relevant to the article. Remarks containing abusive and obscene language, personal attacks of any kind or promotion will be removed and the user banned. Final decision will be at the discretion of the Taipei Times.