Wu is likely to meet Xi later this year
Former vice president and Chinese Nationalist Party (KMT) chairman-elect Wu Den-yih (吳敦義) on Tuesday said it is likely that he could meet Chinese President Xi Jinping (習近平) later this year.
Asked if he would visit China after he becomes KMT chair on Aug. 20, Wu said the most likely time for such a trip, and a meeting with Xi, would be at the KMT-Chinese Communist Party (CCP) forum.
He said that he would follow the established mechanisms for such meetings.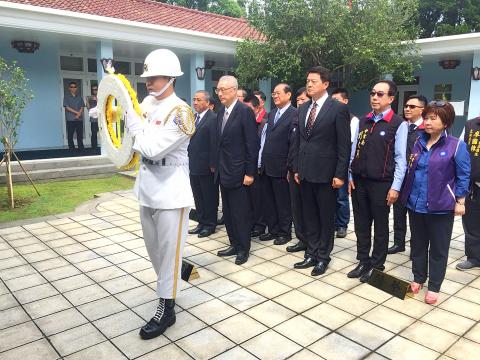 Chinese Nationalist Party (KMT) chairman-elect Wu Den-yih, center in gray tie, and several KMT Central Standing Committee members yesterday visit Cihu Mausoleum in Taoyuan to pay their respects to former presidents Chaing Kai-shek and Chiang Ching-kuo.
Photo: Lee Jung-ping, Taipei Times
Since there is a precedent for the party leaders to meet at the forum, such a meeting could take place "naturally," he said.
This year's KMT-CCP forum is to be held soon, Wu said.
KMT Chairwoman Hung Hsiu-chu (洪秀柱) met with Xi during last year's forum in early November.
Wu received a congratulatory message from Xi, who is also the CCP's secretary-general, shortly after he was elected KMT chairman on Saturday last week.
The forums were initiated when then-KMT chairman Lien Chan (連戰) met then-Chinese president and CCP secretary-general Hu Jintao (胡錦濤) in China in 2005 and agreed to establish such a forum the following year as part of efforts to improve bilateral ties.
The only year that a forum was not held was 2014, after the KMT's resounding defeat in Taiwan's nine-in-one elections that year, leading to the forum being pushed back to early 2015.
The forum, originally named the "Cross-Strait Trade, Economy, and Culture Forum," was renamed the Cross-Strait Peace Development Forum last year.
Comments will be moderated. Keep comments relevant to the article. Remarks containing abusive and obscene language, personal attacks of any kind or promotion will be removed and the user banned. Final decision will be at the discretion of the Taipei Times.