Tsai misses 'passing grade' in survey
GENERATIONAL SHIFT: People aged 65 or above have become Tsai's most ardent supporters, replacing young voters, as her economic and cross-strait policies falter
President Tsai Ing-wen (蔡英文) scored an average of 52.41 points out of a possible 100 in a poll gauging her performance over the past year, with respondents expressing the highest levels of dissatisfaction with her economic performance, her handling of cross-strait affairs and Premier Lin Chuan's (林全) Cabinet.
The poll released yesterday by the Taiwanese Public Opinion Foundation following Tsai's first year in office assessed the public's view on the president and her major policies.
Respondents were asked to grade Tsai's first-year performance with a mark between zero and 100, with 60 being the passing score.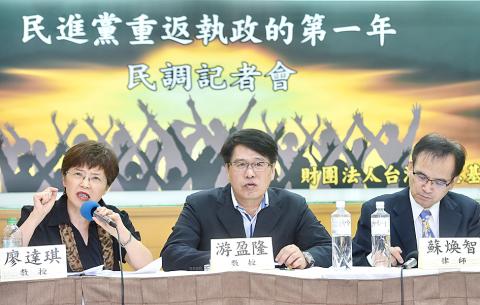 From left to right, National Sun Yat-sen University professor Liao Ta-chi, Taiwanese Public Opinion Foundation chairman You Ying-lung and former Tainan County commissioner Su Huan-chih hold a news conference in Taipei yesterday.
Photo: Chien Jung-fong, Taipei Times
According to the poll, 48.3 percent of respondents gave her a score below 60 points, 23.2 percent gave her 60 points and 26.4 percent gave her a score higher than the passing grade.
Only 39.4 percent of respondents approved of the way Tsai conducted state affairs, while 51.8 percent disapproved of it, which is the second-highest disapproval rating since she took office last year, closely trailing the 54.4 percent disapproval rating in January.
"The voter group that was most supportive of Tsai was young people, but a generational shift has occurred, and it is now people aged 65 or above who are most supportive of her," foundation chairman You Ying-lung (游盈隆) said.
Tsai has an approval rating of 36.7 percent among respondents aged 25 to 34, and 48 percent among people aged 65 and above, according to the poll.
Dissatisfaction levels on her handling of cross-strait relations and economic performance have reached record highs.
The poll found that 38.1 percent of respondents were happy about Tsai's performance on cross-strait relations, but 56.1 percent were not satisfied, the highest dissatisfaction rate since the foundation began the polls in August last year.
"The president and her team have failed on cross-strait relations, the area that they believe is their strongest point," You said. "Tsai has turned from a leader supported by the majority to a president supported only by a few."
Moreover, 63.6 percent of respondents were not happy with Tsai's economic performance, and only 33.3 percent were satisfied.
Respondents were most satisfied with the government's efforts to recover the Chinese Nationalist Party's (KMT) ill-gotten assets, reforming the pension system and national defense, with 45.3 percent saying they were satisfied with Tsai's work on national defense, and 42.6 saying the opposite.
The survey found that 51.7 percent of respondents approved of the government's work on pension reform and 44 percent were unsatisfied.
According to the survey, 52.9 percent were satisfied with the efforts to recover the KMT's illegal assets and 38.4 were unsatisfied.
Meanwhile, 40.7 percent were satisfied with Tsai's diplomatic performance and 50.8 percent were dissatisfied.
The poll showed that 37.4 percent of respondents approved of the government's NT$880 billion (US$29.28 billion) Forward-looking Infrastructure Development Program, with 48.9 percent expressing disapproval.
Regarding judicial reform, 34.7 percent of respondents said they are satisfied, while 55 percent said they are unsatisfied.
As for the performance of Lin's Cabinet, 58.1 percent said they are not satisfied, while 34 percent said they are satisfied.
Sixty-two percent of respondents said they are unsatisfied with the Democratic Progressive Party (DPP) administration, and 34.2 said they are satisfied.
Even in DPP strongholds such as Yunlin, Chiayi, Tainan, Kaohsiung, Pingtung and Penghu, the dissatisfaction rates stood at more than 50 percent.
Among respondents who said they did not support any political camp, 70.2 percent said they were dissatisfied with the DPP, with the disapproval rate soaring to 91.6 percent among KMT supporters. DPP supporters registered a lower dissatisfaction rate of 33 percent.
"There are problems with the 'sensor' of Tsai's team, which is unable to perceive public sentiment correctly, resulting in public dissatisfaction with policies — even those predicted to be highly acceptable — that have been rolled out," former Tainan County commissioner Su Huan-chih (蘇煥智) said.
"With the support rate for Tsai, she could resuscitate her approval rating to above 40 percent if she learns to listen and ensures open debate over policymaking," Su said.
Conducted on Monday and Tuesday last week, the poll collected 1,075 valid samples and has a margin of error of 2.99 percentage points.
Comments will be moderated. Keep comments relevant to the article. Remarks containing abusive and obscene language, personal attacks of any kind or promotion will be removed and the user banned. Final decision will be at the discretion of the Taipei Times.