Daguan community not disadvantaged: veterans' council
The vast majority of residents of the Daguan (大觀) community in New Taipei City's Banciao District (板橋) are not disadvantaged or military veterans, the Veterans Affairs Council said yesterday, accusing residents of building on the site illegally after an earlier military dependents' village was relocated.
"These people were never residents of the military dependents' village," Veterans Affairs Council Vice Minister Lu Chia-kai (呂嘉凱) said, adding that the residents had originally leased space in a market constructed by the National Women's League, which also constructed a military dependents' village nearby.
The market and village were destroyed by a typhoon in 1962, Lu said, adding that while the village was relocated, market residents chose to rebuild.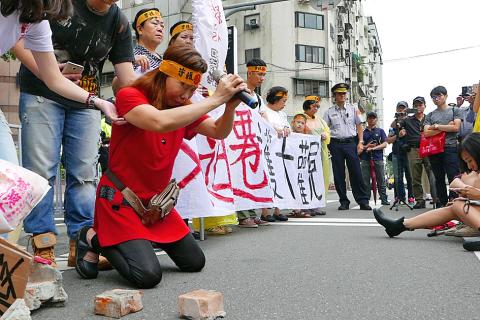 Residents of the Daguan community in New Taipei City's Banciao District protest against the demolition of buildings in the community during a march in Taipei yesterday.
Photo: CNA
"When people were renting stalls on the property, their occupation was legal," he said. "Illegal occupation began when they chose to remain and rebuild after the market disappeared, because there was no legal foundation for the rebuild."
Last month, 21 of the site's 79 households voluntarily allowed their homes to be demolished. The remaining households face eviction and forced demolition next month by the council, which owns the land.
"We have been negotiating since 1970, but there has never been a result," Lu said in response to campaigners' calls for more time for residents to find homes.
While the council has no immediate use for the land, broader government policy requires that it vacate fixed percentages of illegal inhabitants on its land every year, he said, while disputing claims that residents were "disadvantaged" or military veterans.
Only 25 of the remaining 58 buildings are inhabited by their owner, he said, adding that investigations have found that 18 are leased and 15 are uninhabited.
Of the 25 inhabited by their owners, only four households meet government standards for receiving welfare and other benefits for poor or disadvantaged people, he said, adding that only 10 were inhabited by military veterans or their families.
"We originally hoped to reapportion the land to allow them to remain, but the number of residences increased by 56 in 1960 to 79 today," said Yang Chang-cheng (楊長政), the director of a nearby military veterans' retirement home, on whose land the Daguan community is built.
The area violates spacing standards, but residents have not agreed to demolition, he said.
Comments will be moderated. Keep comments relevant to the article. Remarks containing abusive and obscene language, personal attacks of any kind or promotion will be removed and the user banned. Final decision will be at the discretion of the Taipei Times.