Taoyuan Mayor says no charges for protesters
Taoyuan Mayor Cheng Wen-tsan (鄭文燦) yesterday said he would not press charges against opponents of pension reform who allegedly broke two of his ribs, because of a belief in democratic politics.
Cheng said on Facebook that he never thought his injuries would attract so much attention.
"I was only there at the legislature on the day of the protest to try to secure a portion of the budget earmarked for the government's Forward-looking Infrastructure Development Program for my city. It is regrettable that the protesters were so agitated ... that they tried to push people around and attack them," Cheng said.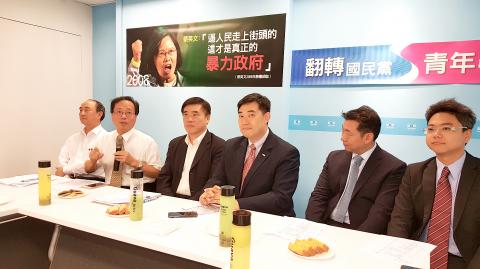 National Civil Servant Association president Harry Lee, second left, and Chinese Nationalist Party (KMT) Vice Chairman Hau Lung-bin, third left, attend a news conference in Taipei yesterday.
Photo: Shih Hsiao-kuang, Taipei Times
Cheng said he did not seek medical attention until Monday, when an examination found that his injuries were more serious than he imagined, requiring two to six weeks to heal.
Nevertheless, the mayor said he still believes in the values of democratic politics and is confident that society is capable of resolving conflicts through rational discussion.
"Therefore, I do not intend to press charges. I hope the public can calm down and use dialogue instead of violence," Cheng said.
Cheng on Wednesday last week was on his way to a legislative joint committee meeting when he and other local government leaders and legislators were allegedly assaulted by people protesting the government's plan to reform pension schemes for public servants and public-school teachers.
Taoyuan Department of Public Information Director Xavier Chang (張惇涵) on Monday said that the mayor sustained fractures of the seventh and eighth ribs on his right side.
Democratic Progressive Party Legislator Tuan Yi-kang (段宜康) took to Facebook to call on National Civil Servant Association president Harry Lee (李來希), a protest leader, to explain what happened to Cheng.
At a news conference in Taipei, Lee said that opponents of pension reform who resorted to violence during the demonstrations last week were provoked by the legislature's cruel installation of barb-wired barricades.
"The anti-reform protesters would not have lost control if they had not been painted into a corner," Lee said.
"The core of the pension conundrum we see today is private-sector workers getting too little in pension payments, while not-yet-retired public servants get too much. Though [pension reform opponents'] actions were inappropriate and regrettable, who do you think caused them?" Lee said.
The nation has seen many protests over separate issues since President Tsai Ing-wen's (蔡英文) administration took office in May last year, so why is it that only pension reform demonstrators have been subjected to legal proceedings, Lee said.
He also lauded Cheng's decision not to press charges.
The nation will be a better place if the kind of magnanimity demonstrated by Cheng could rub off on other politicians, Lee said.
Reform opponents are to stage another protest on May 20, the first anniversary of Tsai's inauguration, he added.
Chinese Nationalist Party (KMT) Vice Chairman Hau Lung-bin (郝龍斌), a former Taipei mayor, who also attended the news conference, questioned the government's description of protesters actions as "violent."
"The unarmed civil servants, in an attempt to preserve their dignity and rights, only pulled on the clothing [of passing lawmakers and government officials] and threw water at them. Can this be called violence?" Hau said.
Comments will be moderated. Keep comments relevant to the article. Remarks containing abusive and obscene language, personal attacks of any kind or promotion will be removed and the user banned. Final decision will be at the discretion of the Taipei Times.