Hung dismisses low valid signatures, eyes election
Chinese Nationalist Party (KMT) Chairwoman Hung Hsiu-chu (洪秀柱) yesterday downplayed the low number of valid signatures she collected for the May 20 party chairperson election, saying the only figure that matters is the number of votes she would receive on election day.
Hung made the remarks in response to media queries about six chairperson candidates submitting a total of about 720,000 signatures from KMT members even though there are only 470,000 party members.
The discrepancy led to a low validity rate for collected signatures, with only 19 percent, or 24,848, of the 128,888 signatures submitted by Hung deemed valid by the KMT headquarters.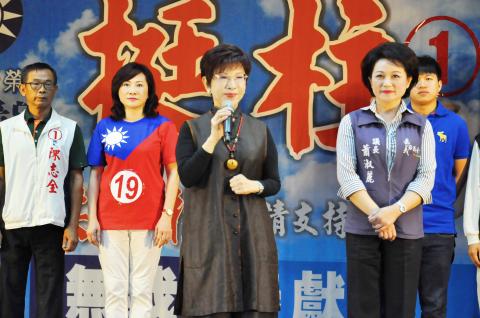 Chinese Nationalist Party (KMT) Chairwoman Hung Hsiu-chu, center, speaks at a campaign event in Chiayi County yesterday.
Photo: Wang Shan-yen, Taipei Times
The signatures collected by the other five candidates had validity rates ranging between 18 and 35 percent.
"The outcome was expected and I am not surprised," Hung said during a trip to Chiayi city and county for her re-election campaign, adding that possible reasons for the inflated numbers might be party members signing for more than one candidate, or candidates copying and submitting fake signatures.
Hung said the reason why her campaign staff reacted strongly to her low validity rate was because they personally collected about 50,000 of the signatures, but only about 20,000 were considered valid and the rest were rejected, as they overlapped with signatures submitted by other candidates.
The number of valid signatures is not important and what matters is whether the numbers will match the votes each candidate receives in the chairperson election, Hung said.
"It would not look good for candidates with a large gap between the signatures they submitted and the votes they received," Hung said.
She said that the KMT's signature requirement policy needs to be reformed and that her camp will put forward reform proposals at the party's next national congress.
The KMT requires each party chairperson candidate to collect signatures of at least 3 percent of party members, or about 13,322 people, to make their nomination official.
The other candidates have also passed the signature threshold. Former vice president Wu Den-yih (吳敦義) collected the highest number of valid signatures at 67,520, followed by former KMT vice chairman Steve Chan (詹啟賢) with 29,306 signatures, KMT Vice Chairman Hau Lung-bin (郝龍斌) with 26,418 signatures, former Taipei Agricultural Products Marketing Corp president Han Kuo-yu (韓國瑜) with 20,028 signatures, and former KMT legislator Pan Wei-kang (潘維剛) with 18,347 signatures.
Comments will be moderated. Keep comments relevant to the article. Remarks containing abusive and obscene language, personal attacks of any kind or promotion will be removed and the user banned. Final decision will be at the discretion of the Taipei Times.