Former 'comfort woman' Chen Lien-hua dies at 93
Chen Lien-hua (陳蓮花), one of three known surviving former "comfort women" in Taiwan, died of intestinal infection on Thursday at the age of 93, said the Taipei Women's Rescue Foundation, a group that advocates for the rights of former Word War II comfort women.
Chen was taken to hospital last month when she complained of stomach pain. Doctors said her intestines had torn.
After surgery, Chen became very weak. She died with her family at her side, doctors said.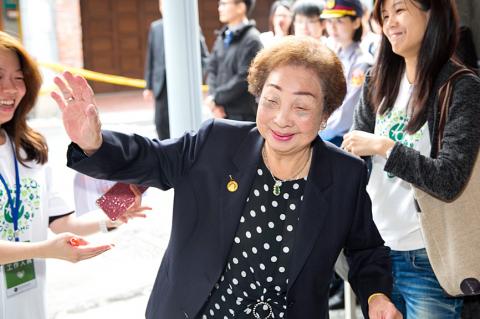 Chen Lien-hua, a former "comfort woman," waves in an undated photograph.
Photo provided by Taipei Women's Rescue Foundation
Born in Taiwan in 1924, Chen was given up for adoption and from a young age worked at a factory. When she was 19, a Japanese person came to the factory under the guise of recruiting "caregivers" and took more than 20 women, including Chen, by boat to the Philippines.
After arriving in the Philippines she and the other women were forced into "sexual slavery" for Japanese soldiers.
After nearly two years in the Philippines, she was one of only two of the more than 20 Taiwanese women taken as comfort women who returned to Taiwan alive, the foundation said.
Chen married a Taiwanese man she met in the Philippines, who was a Japanese Imperial Army soldier.
Chen was initially reluctant to tell people her story for fear of being shamed, but later she agreed to help the foundation and others raise awareness about this often overlooked period in history.
She said she was touched by the care and support shown to her by social workers and others working for redress and fighting for justice for the women.
Chen often attended public activities to tell her story and criticize the then-Japanese military's inhumane treatment and urge the Japanese government to apologize.
In December last year she attended the opening ceremony of the Ama Museum.
"Seeing all of you with so much love in your heart, taking care of Amas; I am really grateful," she said at the ceremony.
Ama means "grandma" or "elderly woman" in Hoklo (commonly known as Taiwanese).
However, as she predicted, Chen did not receive an apology from the Japanese government for her sexual slavery, the foundation said on Friday.
She told international media with tears in her eyes: "We are very old. We may be long gone when Japan is happy enough to make compensation."
The last two known Taiwanese surviving former comfort women are Aborigines who live in Hualien County, the foundation said.
Comments will be moderated. Keep comments relevant to the article. Remarks containing abusive and obscene language, personal attacks of any kind or promotion will be removed and the user banned. Final decision will be at the discretion of the Taipei Times.