Tamkang layoff proposal sparks student protests
Students at Tamkang University in New Taipei City on Friday staged a protest against a layoff plan they said the school proposed to avoid paying pensions and National Health Insurance premiums for its part-time teaching staff.
An amendment to the Labor Standards Act (勞動基準法) that takes effect in August would require such payments, they said.
Rallying in front of a school building, a group of protesters held up placards, shouting: "Protect teachers' right to work. No compromise on students' right to education."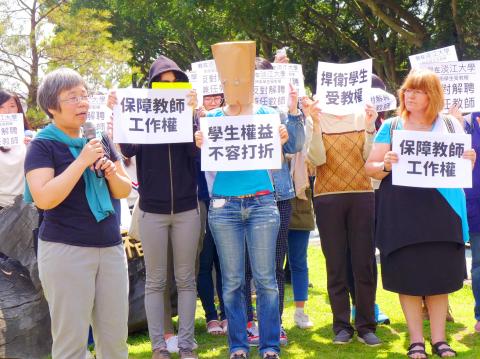 Wang Hui-chuan, left, an associate professor in Tamkang University's English department, talks on Friday in New Taipei City about the increased teaching burden for full-time lecturers after the university decided to lay off part-time teachers.
Photo: Lee Ya-wen, Taipei Times
The alleged layoff plan is detrimental to learning, as it would result in a drain of teaching staff and larger classes, and would leave students with fewer course choices, the protesters said.
Students at the university have already had to forgo their preferred courses, as the school has not provided enough opportunities, and layoffs would only make matters worse, student Hsieh Yi-hung (謝毅弘) said.
Hsieh said he launched a petition urging the university to abandon the plan and reinstate all the courses it plans to cancel.
The petition also asked the school not to fire part-time academics, not to make full-time teaching staff work overtime and to stop hurting teaching quality by merging classes.
Prior to the protest, the petition had already received more than 1,800 signatures, he said.
Protesters later attempted to deliver the petition to university president Chang Chia-i (張家宜), who sent Office of Academic Affairs dean Lin Chun-hung (林俊宏) to meet them instead.
Lin said he could not guarantee the university would schedule a hearing, angering the protesters, who demanded answers from the school's management.
Taiwan Higher Education Union director Chen Shu-han (陳書涵), who participated in the protest, criticized the university, saying that the school showed no intention to resolve the issue.
English department associate professor Wang Hui-chuan (王慧娟) said her department had 68 part-time lecturers, but only 38 full-time lecturers.
The department's faculty was shocked when they learned of the layoff plan, which would shift the burden of teaching to full-time teaching staff after part-time lecturers are dismissed, she said.
The department offers 164 classes for first and second-year students, 102 of whom would be left with no lecturers after the plan comes into effect, she said.
"The plan came as a surprise, and we have to suffer the loss of many great colleagues," Wang said.
A student in the French department, who requested anonymity, said that conversation classes are kept small so that students have enough class time to practice, but that the number of students in a conversation class would increase to 70 if the plan is pushed through.
"How are we supposed to learn this way?" the student asked.
Comments will be moderated. Keep comments relevant to the article. Remarks containing abusive and obscene language, personal attacks of any kind or promotion will be removed and the user banned. Final decision will be at the discretion of the Taipei Times.