Taiwan to aid Nauru in egg production
Taiwan is assisting the Republic of Nauru with egg production in a bid to diversify Nauruans' dietary proteins.
Nauruans mainly rely on fish and canned foods for protein and lack meat and vegetable proteins, Ministry of Foreign Affairs-affiliated International Cooperation and Development Fund deputy secretary-general Chen Ai-chen (陳愛貞) said.
Citing WHO data, Chen said that one of the reasons people in South Pacific nations are prone to obesity and diabetes is their diet.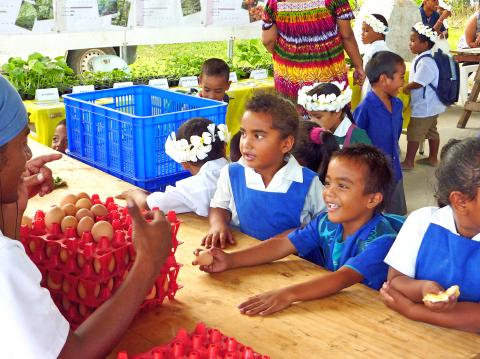 A child holds an egg in Nauru on Tuesday.
Photo courtesy of the International Cooperation and Development Fund
Taiwan hopes to help boost egg production in Nauru to 1.2 million by 2019, Chen said, adding that it also hopes to hold a medical tour of 480 chicken coops and pigsties around the Pacific nation.
The fund is also providing 5,000 chicks and technology to help boost egg production, Chen said, adding that there are more than 1,000 chickens laying eggs in established coops.
The coops produce 3,000 eggs per week and the eggs are distributed to 10 Nauruan schools, Chen said.
Meanwhile, a group of Taiwanese working in Belize on Tuesday last week transferred the operation of tilapia farms to the Belizean government, bringing a five-year joint project between the two governments to an end.
The project saw the production of more than 2.1 million tilapia fish fries — recently hatched fish — and is estimated to produce 1 million fries per year, the Belizean government said.
Comments will be moderated. Keep comments relevant to the article. Remarks containing abusive and obscene language, personal attacks of any kind or promotion will be removed and the user banned. Final decision will be at the discretion of the Taipei Times.