Pundits dissect US president's remarks
TESTY: Taiwanese can enunciate any thoughts on the 'status quo' themselves, and a foreign government cannot speak on Taipei's behalf, Lai I-chung said
US President Barack Obama's comments on Friday regarding the relationship between Taipei, Washington and Beijing provoked mixed reactions in Taiwan.
Obama said during his year-end news conference that there has been a long-standing agreement between China, the US and, to some degree, Taiwanese, that there should be no change to the "status quo."
"The Taiwanese have agreed that as long as they're able to continue to function with some degree of autonomy, that they won't charge forward and declare independence," he said.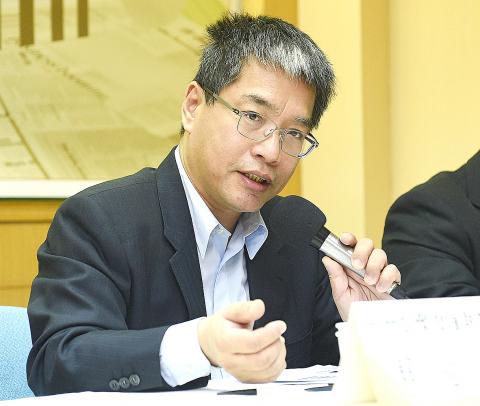 Lai I-chung is pictured in this file photo taken on November 10.
Photo: Chen Chih-chu, Taipei Times
Taiwan Thinktank member Lai I-chung (賴怡忠) said he thought it was inappropriate for Obama to make remarks on behalf of Taiwanese.
Any thoughts Taiwanese have should be spoken by themselves, and no foreign government can claim to speak on Taiwan's behalf when even the Taiwanese government cannot claim to represent the Taiwanese people, Lai said.
Former representative to Japan Koh Se-kai (許世楷) said he thinks the "status quo" is problematic.
"If the international environment is constantly changing, then we must change with the environment," Koh said.
Obama's comments are a description of the present situation, but he "has not considered possible changes in Taiwan in the future," Koh said, adding that while President Tsai Ing-wen's (蔡英文) administration is focusing on maintaining the "status quo," Taiwanese must realize that the "status" is constantly in flux.
Only by changing with the times can Taiwan survive in a fluctuating environment, he added.
New Power Party Legislator Huang Kuo-chang (黃國昌) said that Obama is entitled to his own observations as the outgoing US president, but he said he hopes the US respects Taiwanese democracy and its freedom of choice, just as Taiwanese respected the US' vote for president-elect Donald Trump.
"Taiwan is an independent, sovereign state, and its policies and government are decided by the public," Huang said.
Democratic Progressive Party Legislator Tsai Shih-ying (蔡適應) said that Obama might have been trying to steer Trump away from a radical approach on China to avoid irritating Beijing.
Chinese Nationalist Party (KMT) Legislator Ma Wen-chun (馬文君) agreed that Obama's remarks showed his concern over regional stability and were an attempt to reduce the possibility of unnecessary conflict.
Taiwanese academics viewed Obama's remarks as a reminder to Trump that maintaining the "status quo" would help solidify diplomatic relations for all sides.
National Chengchi University Institute of International Relations professor Yen Chen-shen (嚴震生) said if any party deviates from the "status quo," it could place Taiwan in danger, force China's hand into resolving a problem it does not want to address and drag the US into a war in which it might not want to intervene.
Meanwhile, the Mainland Affairs Council said that the Republic of China is a sovereign nation committed to promoting peaceful and stable relations with China, and reiterated that the government remains committed to preserving peaceful development across the Taiwan Strait and in the region.
Additional reporting by Ho Yu-hua
Comments will be moderated. Keep comments relevant to the article. Remarks containing abusive and obscene language, personal attacks of any kind or promotion will be removed and the user banned. Final decision will be at the discretion of the Taipei Times.