Lawmakers call on China to release rights lawyer
Legislators across party lines yesterday called on China to release human rights lawyer Jiang Tianyong (江天勇), who has been missing since Monday last week after he visited a relative of an imprisoned human rights advocate in China's Hunan Province.
Jiang went to Changsha to visit the wife of jailed lawyer Xie Yang (謝陽) on Nov. 21, but Jiang went missing after making a call to his wife informing her of his planned return to Beijing, reports said.
Jiang's wife and parents have attempted to file police reports with Chinese authorities in Beijing, Changsha and Zhengzhou, but they were deliberately thwarted, the reports said.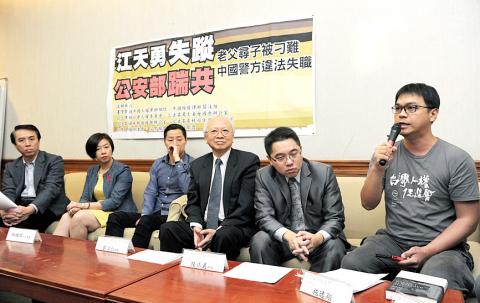 Taiwan Association of Human Rights vice secretary-general Shih Yi-hsiang, right, yesterday speaks at a news conference in Taipei, calling on China to release human rights lawyer Jiang Tianyong.
Photo: CNA
Jiang was an attorney in human rights cases, including one involving Chinese human rights advocate Chen Guangcheng (陳光誠), an expropriate dispute between the local government and private petroleum companies in Shaanxi Province, and a case involving the rights of people with HIV/AIDS.
Jiang's actions have provoked the ire of Chinese authorities, which removed his license to practice law in 2009, reports said.
He has continued to work on human rights issues, but has been detained, abducted and tortured by the police, causing him rib fractures which had not healed when he disappeared, according to reports.
Taiwanese lawmakers urged China to release Jiang, who is believed to be detained incommunicado.
Democratic Progressive Party Legislator Lin Ching-yi (林靜儀) said Taiwan has been through the 228 Massacre and the ensuing White Terror era, making the nation keenly aware of the importance of human rights.
"'Forced disappearance,' a joking term now used by young people here, is actually a dark reality for people living in countries where human rights are violated," Lin said, calling on China to release Jiang ahead of Human Rights Day on Saturday next week to show respect for human rights and freedom of expression.
Lawyers representing people who experienced political persecution during the Martial Law era were obstructed and harassed by the government and the law enforcement agencies, but they might be "forced to disappear" and deprived of their rights if they were in China, New Power Party Legislator Freddy Lim (林昶佐) said.
As Taiwan and China have engaged in closer interactions, making China a country that abides by the rule of law is advantageous to Taiwan, Lim said.
Chinese Nationalist Party (KMT) Legislator Apollo Chen (陳學聖) said there are also people in the pan-blue camp who are concerned about human rights issues in China.
Taiwan as a democracy should not remain silent about human rights violation over fears of offending the Chinese government, Chen said, calling on Beijing not to fear dissidents as if they were monsters.
Comments will be moderated. Keep comments relevant to the article. Remarks containing abusive and obscene language, personal attacks of any kind or promotion will be removed and the user banned. Final decision will be at the discretion of the Taipei Times.