Campaigners for labor rights stage morning protests
Protests were staged early yesterday morning outside the president's residence and the Presidential Office Building by a group of young labor rights campaigners upset by the government's proposal to cut seven national holidays.
The protests came just hours after a marathon 13-hour review session at the Legislative Yuan on Thursday that lasted until 10pm before proposed amendments to the Labor Standards Act (勞動基準法) were sent on to the Social Welfare and Environmental Hygiene Committe.
Labor groups staged a sit-in for about an hour outside President Tsai Ing-wen's (蔡英文) residence before moving to near the Presidential Office Building.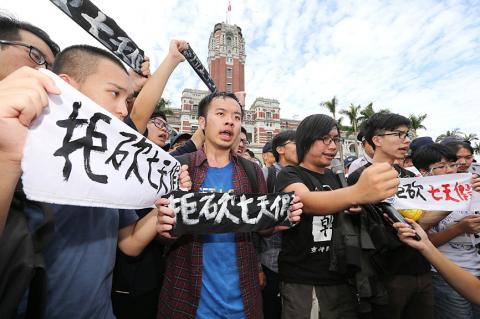 Several youth groups yesterday protest outside the Presidential Office Building against the government's proposal to abolish seven national holidays.
Photo: CNA
They called on Tsai to stop the amendments that would reduce national holidays from clearing the legislature.
Presidential Office spokesperson Alex Huang (黃重諺) said the proposed amendments are being processed in the legislature and different views are to be respected.
The Democratic Progressive Party (DPP) government's proposed amendments to the Labor Standards Act call for reducing number of national holidays from 19 to 12 and "one flexible rest day and one fixed day off" every seven days, which are to accommodate the change from the schedule of 84 working hours over a two-week period to a 40-hour workweek passed during former president Ma Ying-jeou's (馬英九) administration.
Labor groups and opposition parties are against the reduced holidays and the "one flexible rest day and one fixed day off" proposals, saying "rest days" could easily be used by the employers as extra working days because they are not like "fixed days off," which under current regulations do not allow working except for circumstances such as natural disasters and emergencies.
The amendments would lead to an increase in total working hours, they say.
The committee resolved to have most of the amendments discussed in additional cross-caucus negotiations before being put on the legislative floor agenda for final readings.
The New Power Party (NPP), which had insisted on "two fixed days off" every seven days, on Thursday altered its motion to propose allowing working rest days with better overtime pay and guaranteed overtime compensatory leave.
Chinese Nationalist Party (KMT) lawmakers continued to insist on "two fixed days off," while Minister of Labor Kuo Fong-yu (郭芳煜) said that the "one rest day and one day off" system would be more flexible than the "two fixed days off" schedule.
Motions to amend Article 37 concerning the number of holidays were also sent for negotiations, but at the request of KMT lawmakers, the committee conducted a vote, with seven DPP lawmakers voting for a reduction while three KMT lawmakers and one NPP lawmaker were against it.
Other motions that need cross-caucus negotiations include one to increase the penalties for employers' violations such as failing to pay minimum wage and overworking employees, which were deemed too lenient to deter employers from choosing to pay fines instead of abiding by the law.
A few amendments were passed without further negotiations, including a resolution that workers should be granted at least a full 11-hour rest period between shifts.
DPP caucus whip Ker Chien-ming (柯建銘) on late Thursday said that he expects the amendments, including those that require cross-caucus negotiations, to clear the legislative floor before the end of the year.
Additional reporting by CNA
Comments will be moderated. Keep comments relevant to the article. Remarks containing abusive and obscene language, personal attacks of any kind or promotion will be removed and the user banned. Final decision will be at the discretion of the Taipei Times.