Justice minister announces major reforms
TRANSPARENT: Judicial bodies need to work together more closely and improve communication in order to meet the expectations of society, the justice minister said
Minister of Justice Chiu Tai-san (邱太三) yesterday announced a series of major reform initiatives to improve protections for plaintiffs and defendants in contentious cases. Chiu and Deputy Minister of Justice Chen Ming-tang (陳明堂) yesterday morning discussed the initiatives and how the Supreme Prosecutors' Office and the Judicial Yuan could collaborate on a series of judicial reform programs.
The minister said he met with Judicial Yuan President Hsu Tzong-li (許宗力) and Vice President Tsai Chiung-tun (蔡炯燉), and received a positive response on working together to promote transparency. They agreed to set up regular communications between the two bodies.
"We know people are concerned about this issue. People have demanded openness in a system from which they feel excluded. There have been controversial court decisions and people feel disaffected by the justice system. Therefore, judicial reform shall be pragmatic, while changes and improvements should affect people's lives in real ways," Chiu said.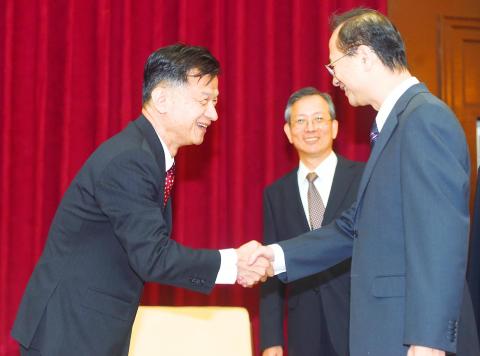 Minister of Justice Chiu Tai-san, left, shakes hands with Judicial Yuan President Hsu Tzong-li at the Judicial Yuan in Taipei yesterday.
Photo: Liao Chen-huei, Taipei Times
Supreme Prosecutors' Office Prosecutor-General Yen Ta-ho (顏大和) and Chiu presented a number of initiatives which had already been agreed upon by other judicial bodies that are to be implemented to launch the upcoming national affairs conference on judicial reform.
One of the measures is to improve protections for victims of crime and permit them to participate in the judicial process, which people have been demanding for many years, Chiu said.
"There is still some discussion to be had with the Judicial Yuan, but we are looking at granting rights, such as a victims' right to access investigation documents and evidence, and their right to independently file an appeal on court decisions," Chiu said.
"The objective is to promote victims' rights to a higher level throughout the judicial process," he added.
The ministry would enhance a program in which judicial officers advise people and advocate for their legal rights, so people can participate more effectively in court proceedings, Chiu said.
The ministry would also continue to implement "Restorative Justice," Chiu said.
"We aim to bring offenders and victims together to talk and in this process, the offenders might come to understand the nature of their crime and how they have affected others," Chiu said.
"From this process, offenders might come to sincere atonement and curtail the hatred brought on by crime, but at the same time, we must better protect victims, expedite financial compensation to them, and also provide them with the counseling and assistance they need," Chiu added.
Another measure includes the Supreme Prosecutors' Office setting up on "oral arguments and legal interpretation research" unit, which would automatically file appeals to the Supreme Court in cases that are of major concern to society and involve contentious legal issues.
Yen said this unit would also be tasked with selecting contentious legal cases to be bought for deliberation by the Supreme Court. In these cases the arguments, legal interpretations and decisions by judges would be published for public perusal to "open up" the judicial system and better meet society's expectations.
Comments will be moderated. Keep comments relevant to the article. Remarks containing abusive and obscene language, personal attacks of any kind or promotion will be removed and the user banned. Final decision will be at the discretion of the Taipei Times.