Nominees should be disqualified: KMT
'WORST LIST EVER': The KMT said that grand justice nominees Hsu Chih-hsiung, Hsu Tzong-li and Hwang Jau-yuan were unsuitable and they should go 'take a hike'
Chinese Nationalist Party (KMT) officials yesterday said three of the seven grand justice nominees should be disqualified since they do not identify with the Republic of China (ROC) and the Constitution, and urged President Tsai Ing-wen (蔡英文) to withdraw their nominations or demand that the Democratic Progressive Party (DPP) caucus block them because the KMT would oppose their nominations all the way.
At a news conference, the KMT specifically named National Chiayi University professor Hsu Chih-hsiung (許志雄), and National Taiwan University professors Hsu Tzong-li (許宗力) and Hwang Jau-yuan (黃昭元) as unsuitable and said that they should "take a hike."
KMT Culture and Communications Commission deputy director Hu Wen-chi (胡文琦) said Hsu Chih-hsiung is "the worst of the lot," because he had said Taiwan is not a normal country and that the ROC is an abandoned name which should be retired, as it was left over from the Chinese Civil War.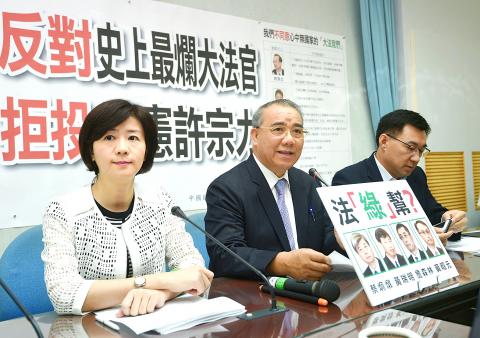 Chinese Nationalist Party (KMT) caucus whip Sufin Siluko, center, caucus secretary-general Johnny Chiang, right, and KMT Legislator Alicia Wang criticize the government's Council of Grand Justices nominees at a news conference at the Legislative Yuan in Taipei yesterday.
Photo: Fang Pin-chao, Taipei Times
"How can such a person, who does not identify with the ROC, be tasked with interpreting the ROC Constitution? You cannot have it both ways. If he thinks he can get away with it, then it is hypocritical and very shameful. If he is a real man, then he should know better and go take a hike, as the Pacific Ocean is wide open, if he would like to do so."
"By their not identifying with ROC, these three gave a slap in the face to the president. Tsai should demand that they recognize the ROC's existence and swear loyalty to the nation. If they do not, then Tsai should withdraw them from the list of nominees," KMT member Tang Te-ming (唐德明) said.
KMT caucus secretary-general Johnny Chiang (江啟臣) said it is "the worst list of grand justice nominees ever," and his party would also not vote for Hsu Tzong-li, a former grand justice who has been nominated Judicial Yuan president, after he called the nation's ties with China a "special state-to-state relationship."
"Our party will initiate a recall motion against DPP members who vote for Hsu Tzong-li," he said.
"We cannot accept them as grand justices, because they showed a disrespectful attitude toward the ROC, the Constitution and the mandate of their office. They are totally unsuitable for the job," he added.
KMT Legislator Alicia Wang (王育敏) said the office of grand justice is a government post and they have a duty to the nation.
"Those who do not identify with the ROC cannot be guardians of the ROC Constitution. If the grand justices interpret the Constitution in a casual way, then they could modify our national boundaries without amending the Constitution. In doing so, they would be perverting the Constitution," she said.
Comments will be moderated. Keep comments relevant to the article. Remarks containing abusive and obscene language, personal attacks of any kind or promotion will be removed and the user banned. Final decision will be at the discretion of the Taipei Times.