'Hakka Romantic Avenue' project to begin next year
The administration is to begin work next year on turning Provincial Highway No. 3 into a "Hakka Romantic Avenue" to promote Hakka culture, President Tsai Ing-wen (蔡英文) said yesterday.
"Romantic Highway No. 3" was a campaign promise that Tsai announced in September last year.
At the time, she said turning the section of the Inner-Mountain Highway that runs through Hakka communities in Taoyuan, Hsinchu and Miaoli counties and Taichung into a development route for tourism and agriculture would bring prosperity to the local communities along the way. It would be a project for all Taiwanese, she said.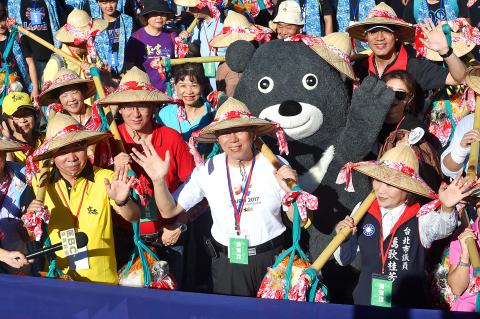 Taipei Mayor Ko Wen-je, front row, center, takes part in the 2016 Hakka Yimin Festival at the Hakka Cultural Park in Taipei yesterday.
Photo: Peter Lo, Taipei Times
Under the plan, measures will be taken to promote the industrial economy and improve the ecological and cultural landscapes of 16 Hakka towns.
"The government's building the national 'Hakka Romantic Avenue' along the Provincial Highway No. 3 is a very important governing mission," Tsai said yesterday at the Hakka Yimin Festival in Taipei.
Several ministries and government agencies, as well as local governments, would be involved in the project, she said.
The "Romantic Highway No. 3" project is just a beginning, she said, adding that the next step would be to revitalize Hakka culture in the Liouduei (六堆) area in Pingtung County and Kaohsiung, as well as in Hualien and Taitung counties.
Provincial Highway No. 3 runs from Taipei to Pingtung through mountain towns in western Taiwan.
Premier Lin Chuan (林全) has said he expects the project will create something like Germany's "Romantische Strasse," which is a 350km route through the forests and mountains of Bavaria and Baden-Wurttemberg, or Japan's Narrow Road to the Deep North, which have been attracting tourists for generations.
Tsai is from a Hakka family and revitalizing and passing on Hakka culture was one of the key platforms in her presidential campaign.
"This is a very important task for me as the president and as a Hakka," Tsai said.
Taipei Mayor Ko Wen-je (柯文哲) also made an appearance at the festival yesterday, which was held at the Hakka Cultural Park.
Comments will be moderated. Keep comments relevant to the article. Remarks containing abusive and obscene language, personal attacks of any kind or promotion will be removed and the user banned. Final decision will be at the discretion of the Taipei Times.