Demonstrators call for environmental review of Taiwan's mining industry
The Executive Yuan should overrule the Ministry of Economic Affairs and force a policy-oriented environmental review of the nation's mining and concrete industry, residents of rural communities said yesterday at a protest in front of the Executive Yuan in Taipei.
More than 50 protesters mobilized by Citizens of the Earth gathered in front of the Executive Yuan, waving banners accusing the government of acting as a "stooge" to corporate "tigers" and calling for a comprehensive environmental review of the industry as part of broader reforms.
"Under the current system, the state of the mining and concrete industry is unclear, including environmental costs and risks," Citizens of the Earth researcher Pan Cheng-cheng (潘正正) said, adding that only 15 percent of Taiwan's mines have ever been subject to an administrative review, because they were licensed prior to the implementation of the Environmental Impact Assessment Act (環境影響評估法) in 1995.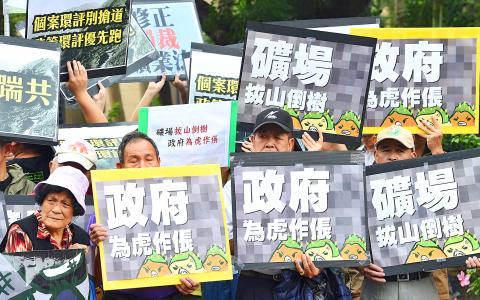 A coalition of environmental groups including Citizens of the Earth and residents of Hsinchu County's Guanxi Township and eastern Taiwan yesterday rally outside the Executive Yuan in Taipei to urge the government to reform regulations on mining to better protect the environment.
Photo: Liu Hsin-de, Taipei Times
She was critical of the ministry's rejection of Environment Protection Administration calls for a policy-oriented environmental review of the nation's mining industry, raising the prospect of the initiative being halted.
Any environmental review would require data provided by the ministry's Bureau of Mines, she said, criticizing the ministry's stance that an industry-wide environmental review is unnecessary due to existing production controls.
"Their limit has not made any difference, because it is between 20 percent and 30 percent greater than current concrete production," she said, adding that there was room for an output reduction by cutting concrete exports, which comprise roughly 20 percent of production.
An environmental review could help determine how much concrete the nation needs given mining risks, while enabling the targeting of some older facilities and more dangerous mines for closure, she said.
"All that we have asked for is basic procedural justice," she said, adding that failure to take even the "first step" toward reform would call into question the government's promises to facilitate an industrial transition.
"To conduct a review does not imply that all cases will be blocked, but given a continually changing environment, how is it reasonable to allow mines to operate for up to 60 years without undergoing any environmental or developmental review?" Pan asked.
Citizens of the Earth researcher Wu Chi-jung (吳其融) said that regulations allow existing mines to receive license renewals indefinitely without undergoing environmental impact reviews.
Numerous residents from rural communities in Hsinchu, Yilan and Hualien counties expressed concern for their safety and anger that they had not been consulted about mining rights.
"Mining makes the mountain shake, which loosens stones and has caused a number of new streams to appear," said a resident of Hualien's Heping Village (和平), who asked to be identified by her Aboriginal name, Qung, adding that her Truku community was concerned that explosions from continued mining on a nearby mountain risked causing landslides.
"Earthquakes are already extremely common, and they're shaking it further still," she said, adding that the reason for the mining had never been explained to local residents.
Chen Ying-jung (陳盈蓉), head of the Executive Yuan's Department of Transportation, Environment and Natural Resources, promised that the Cabinet would announce by the end of the year whether an industry-wide environmental review would be conducted.
Comments will be moderated. Keep comments relevant to the article. Remarks containing abusive and obscene language, personal attacks of any kind or promotion will be removed and the user banned. Final decision will be at the discretion of the Taipei Times.