KMT workers protest freeze of assets
WRONG ADDRESS: KMT workers should take the matter to the party, which still has legal income, an Ill-gotten Party Assets Settlement Committee spokeswoman said
About 30 Chinese Nationalist Party (KMT) workers, led by former KMT legislator Wu Yu-ren (吳育仁), yesterday morning protested outside the office building of the Ill-gotten Party Assets Settlement Committee in Taipei, saying its freeze of KMT assets has harmed the rights of party workers.
The demonstrators are members of the Mutual Help Association for Party Workers' Rights, an organization of KMT workers that Wu established.
The protesters read aloud articles of the Constitution pertaining to the protection of labor rights, and flung empty salary envelopes in the direction of the committee's office.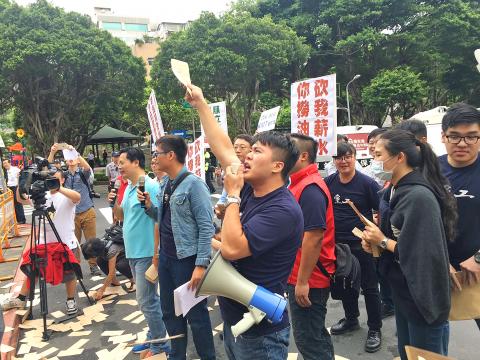 Chinese Nationalist Party (KMT) workers protest in front of the Ill-gotten Party Assets Settlement Committee building in Taipei yesterday.
Photo: Yang Chun-hui, Taipei Times
Wu shouted: "It is not illegal to storm the Executive Yuan," before leading the group in an attempt to charge into the building.
A brief confrontation with the police ensued.
KMT Youth League head Lu
Ching-wei (呂謦煒) said the protest was aimed at protecting both the party's assets and the Constitution, which guarantees "laborers' right to work."
KMT New Taipei City Chapter deputy chairman Chen Mao-chia (陳茂嘉) lambasted committee Chairman Wellington Koo (顧立雄), accusing him of starving KMT workers with the jab: "Had Koo had his breakfast?"
Wu said the Act Governing the Settlement of Ill-gotten Properties by Political Parties and Their Affiliate Organizations (政黨及其附隨組織不當取得財產處理條例) permits the use of illegitimate party assets to pay legal obligations, which Koo's committee had ignored.
President Tsai Ing-wen (蔡英文) should not extend her "purge" of the KMT to its party workers, Wu said.
Asked to respond to the committee's findings that the KMT possesses enough legal revenues, such as political donations, to pay its party workers, Wu said those funds are needed for " operational expenses" that could not be spared on payrolls.
"That would put the KMT out of business. What else can the party use to develop itself?" he said.
"I call on the public to help the party with small-sum donations and prove that the KMT still has a lot of supporters," Wu said.
Commenting on the demonstration, committee spokeswoman Shih Chin-fang (施錦芳) said that the KMT is required to compensate its employees with legal income, which it still has.
"They are protesting against the wrong people. The party workers should ask the KMT to deal with this through the channels of labor-employer disputes," she added.
Comments will be moderated. Keep comments relevant to the article. Remarks containing abusive and obscene language, personal attacks of any kind or promotion will be removed and the user banned. Final decision will be at the discretion of the Taipei Times.