Taiwan, China crime pact failing: justice minister
POLITICS, DELAYS: Deputy Minister of Justice Chen Ming-tang said that a delayed workshop on cross-strait law enforcement was linked to the state of cross-strait ties
A joint crime-fighting agreement between Taiwan and China has not been used to its full potential since the Democratic Progressive Party took power in May, Minister of Justice Chiu Tai-san (邱太三) said yesterday.
Answering questions from lawmakers at a meeting of the Judiciary and Organic Laws and Statutes Committee, Chiu said that although investigations, information-sharing and regular paperwork processing have carried on as usual, there has been a lack of administrative personnel exchanges between the two sides, with neither party participating in visits — as stipulated by the agreement — since President Tsai Ing-wen (蔡英文) took office in May.
The Cross-Strait Joint Crime-Fighting and Judicial Mutual Assistance Agreement (海峽兩岸共同打擊犯罪及司法互助協議), signed in April 2009 under the previous Chinese Nationalist Party (KMT) administration, is aimed at bolstering cross-strait crime-fighting efforts.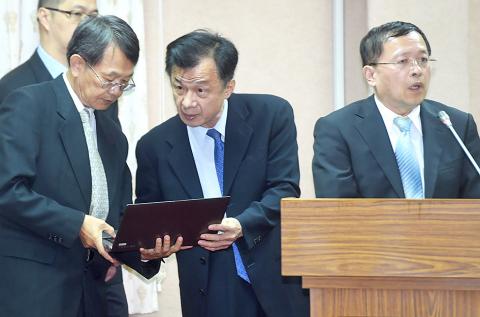 Minister of Justice Chiu Tai-san, center, and Mainland Affairs Council Deputy Minister Chang Tien-chin, right, attend a question-and-answer session of a meeting of the Legislative Yuan's Judiciary and Organic Laws and Statutes Committee in Taipei yesterday.
Photo: Chien Jung-fong, Taipei Times
Deputy Minister of Justice Chen Ming-tang (陳明堂) said that a workshop for cross-strait law enforcement officers that was to have taken place in June and July has been postponed indefinitely.
The delay has "something to do with" the condition of cross-strait relations, Chen said, adding that administrative contact between the two sides via telephone and fax remains normal.
Taiwan and China have jointly cracked 185 criminal cases and arrested 8,829 people since May 20, the ministry said.
However, KMT Legislator Jason Hsu (許毓仁) said that only nine of 198 Taiwanese telecommuncations fraud suspects deported to China from other countries have been allowed visits from family members.
Hsu asked whether the joint crime-fighting program was still viable and whether negotiations with China are still possible.
Chiu said that the program's success depends on bilateral commitment and the nation remains in talks with China via telephone, although there have been no public meetings.
The nine suspects were allowed family visits because of the government's efforts, Mainland Affairs Council (MAC) Deputy Minister Chang Tien-chin (張天欽) said, adding that visiting a suspect before a verdict is reached is prohibited in China.
The council would still negotiate with Beijing to protect the suspects' rights, Chang said.
Democratic Progressive Party Legislator Chang Hung-lu (張宏陸) said that while former president Ma Ying-jeou's (馬英九) administration recognized the so-called "1992 consensus," Taiwanese suspects in a case in Kenya were still deported to China in April, adding that the problem is not about recognition of the "1992 consensus."
Chang Tien-chin said that the cross-strait hotline is not working.
The "1992 consensus," a term former Mainland Affairs Council chairman Su Chi (蘇起) admitted to making up in 2000, refers to a tacit understanding between the KMT and the Chinese government that both sides of the Taiwan Strait acknowledge there is "one China," with each side having its own interpretation of what "China" means.
Comments will be moderated. Keep comments relevant to the article. Remarks containing abusive and obscene language, personal attacks of any kind or promotion will be removed and the user banned. Final decision will be at the discretion of the Taipei Times.