Minister of the interior slammed for 'empty talk'
Minister of the Interior Yeh Jiunn-rong's (葉俊榮) promises to institute administrative hearings on controversial urban planning and land appropriation cases are "empty talk," activists said yesterday as they conducting a mock burning of Yeh's works in Taipei.
About a dozen activists from a self-help association for landowners affected by a Tainan City Government railway tunneling project gathered outside the Ministry of the Interior, burning a large piece of cardboard pasted with copies of numerous legal books and articles by Yeh — a former law professor — to protest what they said was his hypocrisy.
The ministry's Urban Planning Commission approved Tainan's plans last month, despite protests from the landowners, who had demanded formal administrative hearings.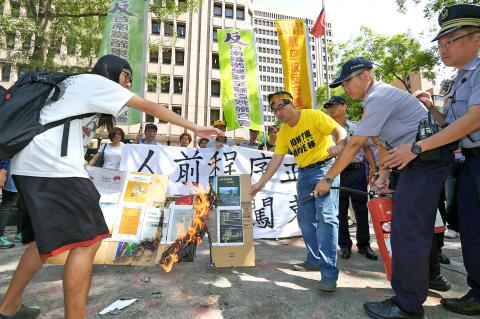 Tainan residents burn copies of the fronts of books and articles written by Minister of the Interior Yeh Jiunn-rong during a protest outside the Ministry of the Interior in Taipei yesterday.
Photo: CNA
Yeh earlier this week said that because the case was close to approval when he took office in May, there was not sufficient time to draft regulatory guidelines for holding administrative hearings before its passage.
Administrative hearings still could be held when the case is up for a second review after the Tainan City Government submits its land appropriation plans for approval.
"Yeh's response that we might be able to hold hearings in the future is like no response at all," student activist Hsu Jen-yuan (徐任遠) said. "Would hearings even be meaningful if all we can discuss is how the land will be appropriated?"
Residents have argued that the land appropriation called for under the city's plans is unnecessary and they have sought administrative hearings to force the city to issue a formal response to their arguments.
Due process in urban planning and land appropriation disputes has become a key point of contention in recent years, with the Council of Grand Justices several times issuing decisions faulting local governments for failing to hold hearings or meet other requirements.
"As an administrative law scholar, Yeh knows that the process under which this case was approved does not match what he has written in the past, so he does not dare take responsibility," resident self-help association spokesman Chen Chih-hsiao (陳致曉) said.
Yeh should have put the case on hold if he was serious about holding hearings, Chen said.
Yeh's claim that he does not have the power to order the Urban Planning Commission to delay approval is incorrect, since 10 of the commission's 21 members are government officials, while 11 are appointed by the ministry, Chen said.
"How are we supposed to believe that in deciding whether it wants to hold a hearing in the future, the ministry will overturn its previous views of the case?" he said.
"The Administrative Procedure Act (行政程序法) is crystal clear — the ministry already has the authority to hold hearings, and if ministry officials are not sure how such hearings should be conducted, there is a mechanism to hold a 'preparatory hearing' to discuss the issue with those affected," he said.
"Today the ministry is drafting its own rules to allow it full discretion over whether a hearing should be called, and we are expected to accept this, even though it has not made any room for our voices," he said.
Comments will be moderated. Keep comments relevant to the article. Remarks containing abusive and obscene language, personal attacks of any kind or promotion will be removed and the user banned. Final decision will be at the discretion of the Taipei Times.