City councilors berate Ko
PRE-EMPTIVE STRIKE: KMT and DPP councilors took turns criticizing Ko for his actions in connection with several contracts as well as the loss of an agency head
Taipei Mayor Ko Wen-je (柯文哲) yesterday came under fire at the Taipei City Council over several potential compensation payments as well as the resignation of Taipei Department of Legal Affairs Commissioner Yang Fang-ling (楊芳玲).
He also received several "gifts" from his critics.
Ko was scheduled to deliver a policy address to the council, the second day of its current session, but several councilors had signed up to speak before him.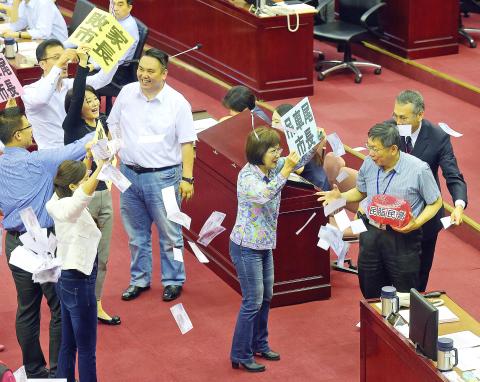 Chinese Nationalist Party (KMT) councilors throw fake banknotes in the Taipei City Council chamber yesterday as they accuse Taipei Mayor Ko Wen-je, front right, of wasting city residents' money.
Photo: Huang Yao-cheng, Taipei Times
Chinese Nationalist Party (KMT) Taipei City Councilor Wu Shih-cheng (吳世正) panned Ko over what he called "a clandestine deal" with Radium Life Tech Co to cover the dissolution of the company's contract to lease superficies at the MRT Nangang Depot.
The city is to compensate the company NT$240.4 million (US$7.66 million) for terminating the contract and Wu criticized Ko for not bringing the proposed deal to the attention of the city council.
"Who will pay the NT$240 million? You? No, all Taipei residents are," Wu said.
He also slammed the decision to tear down the Taipei West Bus Station to alleviate traffic congestion around Taipei Railway Station.
According to the city's contract with Kuo-kuang Motor Transport Co, which operates the bus station, the city would not have to pay compensation if it demolishes the bus station after April next year, but Ko has said the station will be torn down by the end of this year, prompting Kuo-kuang to demand NT$300 million in compensation, Wu said.
KMT Taipei City Councilor Chen Chung-wen (陳重文) said Ko has broken his promise to use the city's second reserve fund prudently, citing the renovation of Taipei City Hall's kitchen sinks for more than NT$4 million
Chen presented Ko with a piggy bank and urged him to use city funds sparingly and on policies that Taipei residents really want.
Democratic Progressive Party (DPP) Taipei City Councilor Wang Shih-chien (王世堅) gave Ko a towel with the words: "Repent, for you only care about yourself," after criticizing him over the possible cancellation of the Beitou Gondola contract.
The city could end up paying NT$700 million in compensation if it cancels a build-operate-transfer contract because of potential environmental damage, Wang said.
Ko does not care how much money is spent as long as it boosts his re-election chances, Wang said.
Ko eventually gave his speech, but not before other councilors raised questions about Yang's resignation on Monday. She is the 10th city agency head to resign from Ko's administration.
In an open letter on Monday, Yang cited "conflicting visions" for her resignation, adding that she had tried to stop Ko from crossing a "legal red line," but that her efforts were viewed as defying Ko.
Yang is the wife of Yao Li-ming (姚立明), Ko's campaign director during the 2014 mayoral race.
In a statement yesterday, Yang said that the "red line" she referred to was the Taipei West Bus Station case, as Ko had instructed the Department of Transportation to budget NT$700 million for compensation.
She said that when she told Ko that the city should be able to avoid paying compensation because the demolition would serve to further citys' development and paying it could leave the city open to charges of illegally benefiting Kuo-guang, Ko raised his voice to her and an argument erupted.
Comments will be moderated. Keep comments relevant to the article. Remarks containing abusive and obscene language, personal attacks of any kind or promotion will be removed and the user banned. Final decision will be at the discretion of the Taipei Times.