PARALYMPICS: Rio medal successes not broadcast
Taiwanese powerlifter Lin Tzu-hui (林資惠) won the bronze in the women's 79kg category at the Rio de Janeiro Paralympic Games on Sunday, but most Taiwanese could not watch because no television channel broadcast the Games.
Lin, 35, contracted polio when she was only nine months old. She won gold medals in the 75kg category at the 2004 Athens Paralympics and 2008 Beijing Paralympics. She also won the bronze in the same category at the 2012 London Paralympics.
Lin won the bronze this year despite an injury she sustained during training.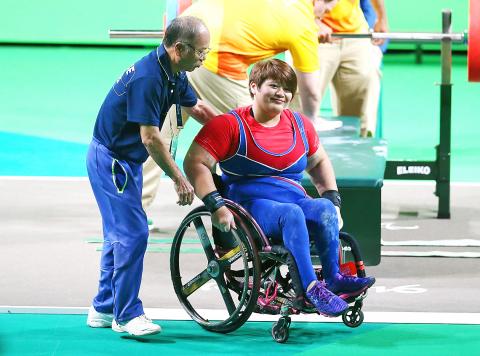 Taiwanese powerlifter Lin Tzu-hui, right, smiles while competing at the Rio de Janeiro Paralympic Games on Sunday.
Photo: CNA
Taiwan's only other medal was a silver in the men's team table tennis tournament after the team lost to South Korea in the final on Friday last week.
However, Taiwanese could not watch the achievements on cable TV or the multimedia-on-demand (MOD) system offered by Chunghwa Telecom.
The lack of TV coverage spurred online discussion.
A netizen wrote on Professional Technology Temple — the nation's largest academic online bulletin board — that he was hoping to watch some of the Games on MOD, but instead it reran events from the Summer Olympics.
"[Japan's] NHK broadcasts the Paralympic Games live. Taiwan is a nation that discriminates against people with disabilities after all and lacks barrier-free facilities for them," he said.
The comment drew mixed reaction.
One person said viewership is the determining factor when deciding whether to cover an event, adding that broadcasting companies are not charities.
Others said that not broadcasting the Paralympics cannot be equated with discriminating against people with disabilities.
They said TV networks chose not to broadcast the Paralympics because nobody watches them.
Taiwan is not the only nation grappling with a dearth of coverage of the Paralympics.
NBC in the US promised to allocate 66 hours of airtime for the Paralympics. However, that pales in comparison with the airtime dedicated to the Summer Olympics, which reached 6,755 hours, US blogger Sage Boggs said.
The lack of coverage of the Paralympics became ironic when four visually impaired runners in the 1,500m final ran faster than any Olympian in the same category, he wrote.
Pointing to the British network Channel 4's coverage of the 2012 London Paralympics' opening ceremony, which drew 11.2 million viewers, Boggs said it is not that there is not much appetite for the Paralympics in the US.
"It is just we're too busy eating up football to realize there are athletes in Rio breaking world records," he wrote.
Comments will be moderated. Keep comments relevant to the article. Remarks containing abusive and obscene language, personal attacks of any kind or promotion will be removed and the user banned. Final decision will be at the discretion of the Taipei Times.