National Day festivities trimmed
EVERYDAY HEROES: This year's celebrations would focus on people who contribute to others' lives, Deputy Minister of the Interior Hua Ching-chun said
Taiwanese baseball star Chen Chin-feng (陳金鋒) has been invited to sing the national anthem at next month's Double Ten National Day celebrations, as the event would focus on the theme of "local heroes" and cut back on the extravagant style of previous celebrations, government officials said.
Chen has accepted the invitation, said Deputy Minister of the Interior Hua Ching-chun (花敬群), who heads the event's organizing committee.
"The Double Ten event marks our National Day, so it is an honor to be invited, and I am happy to accept it," Chen said.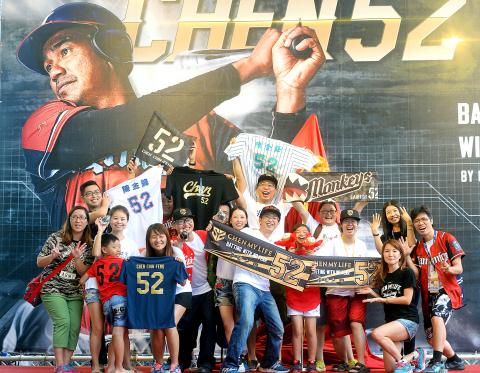 Fans of Lamigo Monkeys outfielder Chen Chin-feng hold jerseys and banners with Chen's name on them in Taoyuan yesterday.
Photo: Lin Cheng-kung, Taipei Times
This year's organizing efforts are aimed at putting on a markedly different celebration from previous ones by cutting back on the ostentatious display of pomp and pageantry, and doing away with the nighttime fireworks show, which has been seen as wasting taxpayers' money, Hua said.
This is to be the first National Day celebrations that President Tsai Ing-wen (蔡英文) would preside over in her capacity as the head of state.
This year's themes are "We stand together with the public" and "It is good to be with you," which would honor outstanding performers in their respective endeavors, as well as individuals who made a difference in other people's lives through their work, Hua said.
The ceremony is to include firefighters and civilian groups tasked with rescue and emergency response operations take part in a parade as "local heroes," joining marching bands from various schools and military units.
Another focus is to be on the nation's athletes, as the ceremony is to have the Taiwanese team who competed at the Rio Olympic Games last month, along with Chen, lead a procession of athletes.
Hua said that they invited Chen because he has announced his plan to retire after this season, and sports fans and officials would like to pay tribute to Chen, who came up with game-deciding hits for Team Taiwan and made history as the first Taiwanese player in US Major League Baseball when he debuted for the Los Angeles Dodgers on Sept. 14, 2002.
"People are proud of Chen's accomplishment and he is recognized as the 'pride of Taiwan,' so this is a fitting way to honor him before he retires," Hua said.
One other main theme for this year's celebrations is "green" energy, which is to have people, including borough and village wardens from across the nation, parade on electrical motorcycles provided by a Taiwanese company.
Hua said this is the government's way of showing the public and the international community its resolve to "go green" and "go electrical" by using Taiwan's "most popular mode of transportation."
Comments will be moderated. Keep comments relevant to the article. Remarks containing abusive and obscene language, personal attacks of any kind or promotion will be removed and the user banned. Final decision will be at the discretion of the Taipei Times.