INTERVIEW: Ex-National Security Council head opines on leadership
While the leadership of the nation's recent heads of state has seemingly run into criticism and has become a constant subject of debate within Taiwanese society, few have offered an objective discussion based on academic study of leadership. In a recent interview with 'Liberty Times' (sister newspaper of the 'Taipei Times') reporter Tzou Jiing-wen, former National Security Council secretary-general Ting Yu-chou offered his opinions on leadership in decisionmaking
Liberty Times: What do you think leadership is?
Ting Yu-chou (丁渝洲): I think the following three phrases encapsulate the essence of leadership: A leader leads people; the core of leading is to win over people's hearts; and the highest level of leadership is to achieve the extraordinary with an ordinary team.
Many people commonly mistake leadership with management. Management is the effective combination and utilization of staff, work, timing, location and resources with scientific methods toward the goal of achieving maximum team efficiency.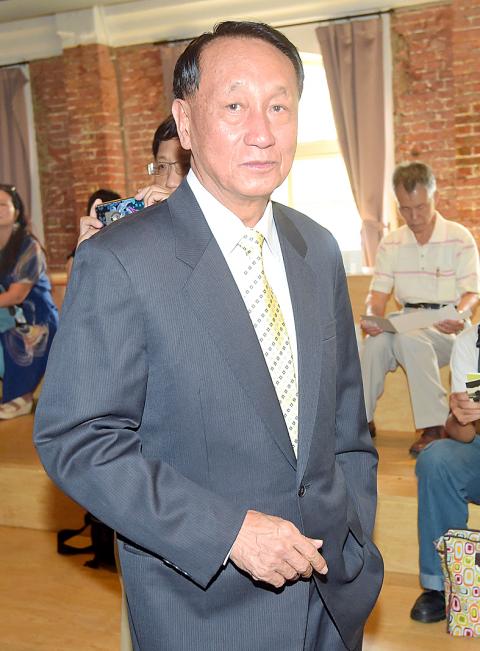 Former National Security Council secretary-general Ting Yu-chou poses for a photograph in Taipei on Aug. 30.
Photo: Huang Yao-cheng, Taipei Times
However, leading is making decisions that management executes. A leader envisions the future, while a manager is immersed in the present; a leader pursues innovation, a manager maintains the "status quo." A leader's strength comes from his or her unique characteristics, their professional knowledge and a strong sense of duty. A manager draws power from station, which is reinforced by regulation.
In short, leading is an art, while managing is a science: A leader presides over the conceptual, while a manager oversees the actual work. The higher the rank, the more leading one has to do, while the ratio of management is significantly heavier in the lower ranks.
However, regardless of rank, management is leadership, and vice versa; they are simply two sides of the same coin.
That said, there is still a significant difference between managing and leading. The US Military Academy, commonly known as West Point, has turned out three presidents — two presidents of the US, Ulysses Grant and Dwight Eisenhower, and the president of the Confederate States of America, Jefferson Davis — and about 5,000 generals and military leaders, many of whom went on to become chairmen and CEOs of the 500 largest corporations in the world.
That there are more people in these corporations who were educated at West Point than other first-rate universities is due to its educational methodology. At West Point, students are not only expected to learn and internalize all knowledge taught, but they are also taught about honor, responsibility and teamwork as a part of fostering a healthy personal character, or put simply, a leader.
In management schools, especially those in Taiwan, the courses offered are structured around the core concept of imparting professional knowledge, with courses on leadership being rare. This is perhaps why we have many managers in Taiwanese businesses, but very few leaders.
What I am trying to say is this: A leader is difficult to find. For example, look at how many deans and teachers you meet while in school, and how many superiors you have after finishing your education. How many of those individuals have truly earned your respect, or made you want to emulate them?
The importance of leadership is the power of authority given to an individual — the ability to appoint personnel, to dispense resources and take control of policy. A leader is the soul of a unit, and is key to the unit's success or failure.
A good leader has a vision of what they want the unit to become, but also possesses the ability to resolve problems that the unit might encounter. A leader's value lies in the fact that they are able to achieve a mission, even under duress.
[US Army] general George Patton took command of the army's II Corps following its defeat at the hands of [German general] Erwin Rommel at the Battle of Kasserine Pass in North Africa. Within two weeks, Patton had introduced sweeping changes, which allowed the unit to push back German-Italian armor at the Battle of El Guettar near Gafsa, Tunisia.
II Corps, operating in the same theater of operations against the same enemy, achieved different results under different commanders. This is the importance of a leading figure.
LT: What important characteristics should a leader possess?
Ting: A leader must facilitate communication and avoid enforcing their own will. A report I once read pointed out that 70 percent of problems in the US' corporate sector were due to a lack of communication.
A unit that has good communication will see lower staff turnover and enjoy higher work efficiency. According to Dale Carnegie, "15 percent of one's financial success is due to one's technical knowledge and about 85 percent is due to skill in human engineering — to personality and the ability to lead people."
While I think that statement is a bit over the top, it nonetheless stresses the importance of communication. Communication might not be the panacea of problem-solving, but one simply cannot do without communication.
Second, leaders must know themselves. The ancient Greeks wrote on the walls of the temple to Apollo in Delphi: "Know thyself."
Lao Tzu (老子) said that to know others is to be wise, to be known by others is a blessing, but to know oneself is enlightenment. The easiest thing in the world is to criticize others, and the hardest to do is to face one's own actions.
How, then, can one truly known oneself?
Simple — through reflection. By reflection, I mean that one must be sincere in facing their inner selves and thereby recognize their strengths and weaknesses.
I feel that the most difficult lesson to learn from life is how to master one's own faults once they have been identified.
When we are brave enough to stand against difficulty, half of the difficulty is already resolved, because often, it is the mind that forms the majority of hardships.
The success of [former French emperor] Napoleon Bonaparte is precisely due to his belief that "impossible is a word to be found only in the dictionary of fools." A leader must be strong of will, defined, I think, as the ability to both bravely face challenges head-on and to do so with wits.
The hardest quality to define in an individual is not their moral character, but rather the strength of their will.
[Former US president] Abraham Lincoln said that he never gave in to a challenge if he saw a shred of hope, and [former British prime minister] Winston Churchill — following the resignation of his predecessor, Neville Chamberlain, after Nazi Germany's sweeping victory in Europe — told the British Parliament: "You ask, what is our aim? I can answer in one word: Victory. Victory at all costs. Victory in spite of all terror. Victory, however long and hard the road may be, for without victory there is no survival."
The iron will of Churchill won him the support of parliament and calmed the British public. Under his leadership, the UK defied the Nazi bombardment of Britain, and it could be said that Churchill's will to defy the Germans saved Britain and changed history.
All those who succeed share common traits — a responsibility to themselves and the refusal to give up lightly a goal to which they are committed. Those who are easily swayed from their goal are usually unable to obtain it. In life, in moments of life or death, failure or success, the strength of one's will is the most crucial element.
As Plato once said: The key to success is to hold on until the last.
Translated by Jake Chung and Jonathan Chin
This is the first of a two-part interview. Part II is to be published tomorrow.
Comments will be moderated. Keep comments relevant to the article. Remarks containing abusive and obscene language, personal attacks of any kind or promotion will be removed and the user banned. Final decision will be at the discretion of the Taipei Times.