Critics pan China investment plan
The government's plan to open up mutual funds to Chinese investment amounts to "smuggling through" the cross-strait service trade agreement — which formed the focus of the 2014 Sunflower movement — without legislative approval, critics said yesterday, while calling for supervisory legislation to be reviewed by a special joint legislative committee.
"At a time when the Cabinet has not passed the cross-strait service trade agreement, Premier Lin Chuan's (林全) Cabinet is trying to smuggle through one of the provisions of the agreement," Economic Democracy Union convener Lai Chung-chiang (賴中強) said, citing the Cabinet's decision earlier this month to relax restrictions on Chinese investment in Taiwanese mutual funds.
Financial Supervisory Commission Vice Chairman Kuei Hsien-nung (桂先農) earlier this month said that the government would relax restrictions on Chinese visitors, allowing them to invest up to US$500 million in New Taiwan dollar denominated mutual funds while in the nation — and allowing Chinese outside the nation to invest in foreign-currency-denominated funds that track Taiwanese stocks and bonds.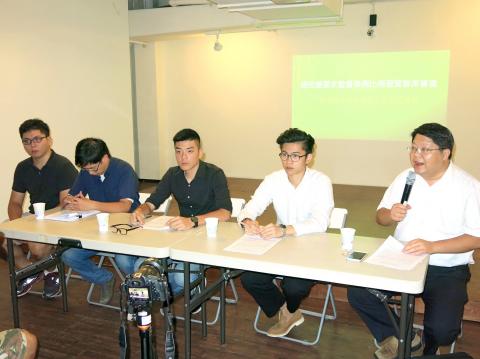 Economic Democracy Union convener Lai Chung-chiang, right, speaks about the review procedure of the draft cross-strait agreement oversight act yesterday in Taipei.
Photo: Cheng Hung-ta, Taipei Times
At the time, Kuei said that the relaxation was unrelated to the service trade agreement, because the provisions of that agreement were mainly directed at institutional investors.
"This opening is huge and clearly what the service trade agreement promises," Lai said, citing a provision in the agreement's appendices that promises "active deliberation" on allowing "qualified" individual investors to invest in Taiwanese capital markets.
"Originally, only institutional investors were allowed to invest, but the services trade agreement would have opened the door for individual investors, while limiting it to those who possessed certain qualifications. Today, the Financial Supervisory Commission would be opening investment in mutual funds regardless of any qualifications — every Chinese tourist will be able to make purchases," he said, accusing the officials of playing "word games" with their denial.
"The Executive Yuan argues that it is not opening direct investment in stocks, but if you can own stocks through mutual funds, is that really any different?" he said. "The result of this will be that Chinese investors will very likely become the biggest investors in Taiwanese mutual funds and they will be able to exercise more influence."
Lai also called for the quick passage of new supervisory legislation regulating negotiations with China, saying that he expects talks between the Straits Exchange Foundation and China's Association for Relations Across the Taiwan Straits to resume by 2018, after the Chinese Communist Party's 19th National Congress.
A review of the legislation should be conducted by a joint committee comprised of members of four related legislative committees rather than the Internal Administration Committee as currently slated, to give a broad range of legislators the right to openly propose amendments, he said.
Comments will be moderated. Keep comments relevant to the article. Remarks containing abusive and obscene language, personal attacks of any kind or promotion will be removed and the user banned. Final decision will be at the discretion of the Taipei Times.