Soong representing Tsai rumor meets mixed response
Rumors that People First Party (PFP) Chairman James Soong (宋楚瑜) is to represent President Tsai Ing-wen (蔡英文) at this year's APEC leaders' summit in November yesterday drew a mixed response.
Reports about the alleged appointment hit the Chinese-language media late on Tuesday night, and when questioned about them that night, Presidential Office spokesperson Alex Huang (黃重諺) said the selection was still in the planning stages and an announcement would be made once an envoy is chosen.
PFP Culture and Publicity Department director Vivian Huang (黃珊珊) yesterday said "the PFP has no comment about it now, as [we should] all respect the announcement by the Presidential Office [when it occurs]."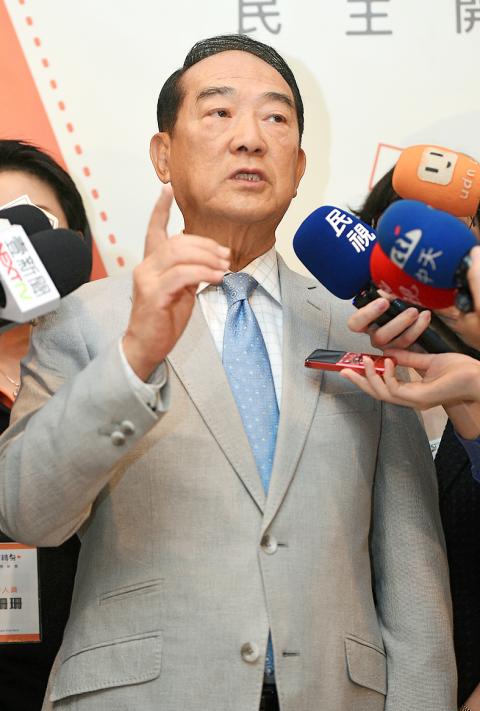 People First Party Chairman James Soong speaks at a political summer camp organized by the party for youth in Taipei on Aug. 13.
Photo: Chang Chia-ming, Taipei Times
However, Soong "has made it clear many times that he and the PFP would be more than glad to assist in activities that could facilitate peaceful cross-strait development," she said.
Deputy Legislative Speaker Tsai Chi-chang (蔡其昌) yesterday said that if confirmed, Soong would be a "creative and appropriate pick, as he is no longer active on the political front lines and has a pretty good relationship with Beijing."
Soong is "someone Beijing could trust," Tsai Chi-chang said.
Democratic Progressive Party (DPP) caucus whip Ker Chien-ming (柯建銘) said Soong was more than qualified to represent Taiwan at the APEC summit.
"Soong has both the political acuteness and experience to take up the role and mission as an envoy to this year's meeting," Ker said.
Soong representing the president would also set a good precedent for cross-party cooperation and would embody conciliation and cooperation between the ruling party and opposition parties, he said.
While DPP lawmakers were generally supportive of the idea, their Chinese Nationalist Party (KMT) counterparts said such an appointment would be demeaning for the nation, because Soong lacked the status of previous APEC envoys.
KMT Legislator Alicia Wang (王育敏) said Soong did not have the same stature as envoys appointed by former president Ma Ying-jeou (馬英九), such as former vice president and premier Lien Chan (連戰) or former vice president Vincent Siew (蕭萬長), especially given Siew's financial background.
The highest office Soong held was governor of Taiwan Province, and the province, as an administrative division of the nation, had already been suspended, she said.
Former Cabinet spokesperson Sun Lih-chyun (孫立群), who is now executive director of the KMT's think tank, the National Policy Foundation, was quoted by the Chinese-language United Evening News as saying that appointing Soong, a former provincial governor, would be "self-debasing," because Taiwan used to send vice presidents to the APEC leaders' meeting.
The Chinese-language China Times yesterday reported that Beijing has rejected the idea of Soong representing Taiwan and claimed that there is a "convention" whereby the APEC host would first ask Taiwan to pick someone to represent its president, who would then be vetted privately by Beijing, and only after a consensus was reached between all three parties — the host, Taiwan and China — would a formal invitation to the summit be issued.
The China Times said Beijing gave the thumbs-down to the choice of Soong, because it believed his selection was an attempt by Tsai Ing-wen's administration to meet with Chinese leaders through Soong and thereby maintain "a facade of a cross-strait 'status quo.'"
The APEC leaders' summit is scheduled to be held in Lima on Nov. 19 and Nov. 20.
Additional reporting by CNA
Comments will be moderated. Keep comments relevant to the article. Remarks containing abusive and obscene language, personal attacks of any kind or promotion will be removed and the user banned. Final decision will be at the discretion of the Taipei Times.