Unions hold protest over workweek
More than 100 union members yesterday protested outside the Executive Yuan and Legislative Yuan, calling for restrictions on "compensatory holidays," as a debate over the implementation of a universal 40-hour work week continues.
Shouting slogans slamming negotiations with business groups and demanding the preservation of public holidays, union members demonstrated for more than one hour, pressing against the police line outside the Executive Yuan before marching to the Legislative Yuan, shouting that they would monitor members of the Democratic Progressive Party (DPP) leadership and Social Welfare and Environment Hygiene Committee after amendments by the Executive Yuan to the Labor Standards Act (勞動基準法) are submitted.
The proposed amendments are to give workers two days off per week, with more stringent overtime requirements and higher pay for work performed during off days, in response to labor campaigners' argument that mandating a 40-hour workweek would not guarantee a five-day workweek without additional regulations over weekly off days.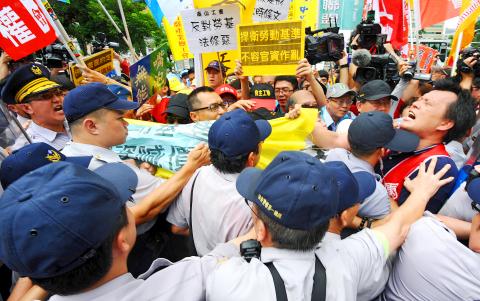 Labor unions members yesterday clash with police during a demonstration outside the Executive Yuan in Taipei.
Photo: Chang Chia-ming, Taipei Times
Overtime pay rates have been a key point of contention because of plans to cancel seven national public holidays to compensate for the reduction of weekly working hours, with campaigners saying that the changes could lead to pay reductions because of differences between regular overtime wages and those for national holidays.
Representatives from 14 union confederations who participated in the protest signed a pledge rejecting negotiating the issue with business associations, after seven major business groups said they would terminate government-sponsored negotiations earlier this week, after the Ministry of Labor last week issued an order temporarily restoring the public holidays, prior to the passage of the amendments.
Another ministry order issued earlier this week forbids working more than sic consecutive days without taking a day off.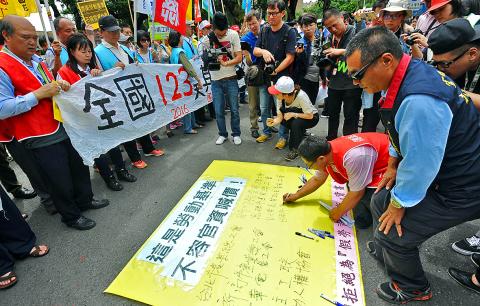 A coalition of labor unions yesterday demonstrate outside the Executive Yuan in Taipei to call on the government to set restrictions on "compensatory holidays.
Photo: Chang Chia-ming, Taipei Times
Protesters called for additional restrictions to keep employers from using flexible working hours and compensatory holidays to get around higher overtime rates.
"If you do not restrict compensatory holidays [or off days that employers grant employees when they work overtime without pay], the increase in overtime pay is not real," Taipei City Confederation of Trade Unions executive director Chen Shu-lun (陳淑綸) said.
Businesses were likely to take advantage of the current one-to-one ratio for compensatory holidays to avoid paying higher overtime rates and criticized the ministry for failing to restrict the use of flexible work time provisions, Chen said.
"The original purpose of flexible work time was to allow workers to concentrate their work time in return for more time off, but the required negotiations between employers and employees are not implemented in practice, allowing the employers to use flexible work time provisions to arbitrarily tell employees when they have to work," she said.
"Many companies require workers to work on Saturdays, while offering additional off days instead of overtime pay, but the problem is that if the off days are not taken within several months they are forfeited," Tainan Confederation of Trade Unions secretary-general Huang Yu-te (黃育德) said, calling for compensatory holidays to be granted to workers within one week.
Comments will be moderated. Keep comments relevant to the article. Remarks containing abusive and obscene language, personal attacks of any kind or promotion will be removed and the user banned. Final decision will be at the discretion of the Taipei Times.