Fugitive ex-wife of former Miaoli official repatriated
Fugitive Ho Hsiu-chen (何琇珍) — the ex-wife of a former Chinese Nationalist Party (KMT) Miaoli County official — who has been in the US for the past 17 years, was repatriated yesterday to face charges of corruption dating back to the 1990s.
It was the first time a fugitive was repatriated to Taiwan from the US since the two countries broke off diplomatic relations in 1979, and was the result of a successful collaboration between the Taiwanese and US departments of justice, officials said.
Ho was met upon landing on a flight from Los Angeles at the Taiwan Taoyuan International Airport yesterday morning by Ministry of Justice Investigation Bureau officials, who read her her legal rights and placed her in handcuffs.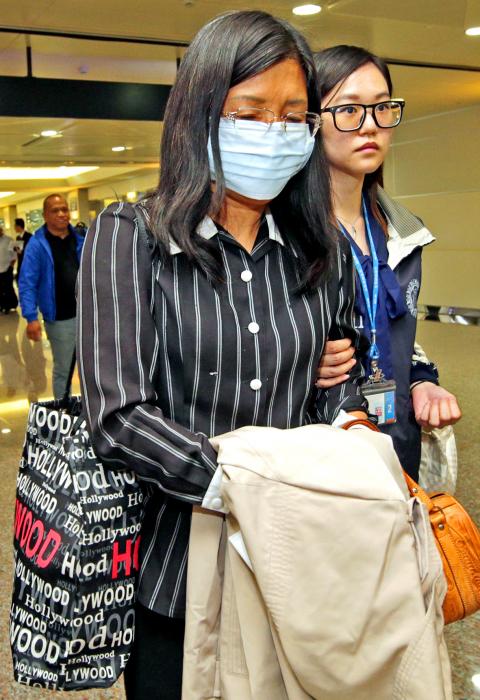 Ho Hsiu-chen, the wife of a former mayor of Miaoli County's Gongguan Township, is repatriated to Taiwan yesterday after hiding in the US for 18 years following her connection to kickbacks involving a construction project.
Photo: Chu Pei-hsiung, Taipei Times
Ho was taken to the Miaoli District Prosecutors' Office for questioning over her involvement in a public construction corruption case.
The bureau's International Affairs Division section head Chu Cheng-sheng (朱正聲) said Ho's repatriation was the successful result of bilateral cooperation between the bureau and the US Immigration and Customs Enforcement, repatriating a Taiwanese fugitive who had fled to US territory.
"We want to thank the US side for their assistance on this case. In the future, we will seek to bring back criminals who abscond to the US so they can face justice at home based on this collaboration framework," Chu said.
Ho was the wife of Hsieh Kuei-lin (謝桂麟), former chief of Miaoli's Gongguan Township (公館), and the couple — who were married at the time — were in 1994 accused of receiving NT$453,000 in bribes from contractors to secure contracts for road and sewer repair when Hsieh was the township's mayor.
The couple were convicted on corruption charges in 1999, with Hsieh and Ho receiving jail terms of 14 years and 12 years respectively, but they fled the country to evade imprisonment.
Hsieh fled to Indonesia, but was arrested when he tried to return in 2006, serving five years in jail before being paroled and released in 2011.
Ho took a flight to US and entered on a tourist visa, where she remained for the past 17 years.
Ho was able to stay in US because of her "student" status, as she repeatedly enrolled to study in a doctoral program over 16 years at the University of the West in Rosemead, California.
Speaking to reporters in a separate setting, Hsieh declined to comment on Ho's repatriation, saying that they have divorced and what happens to his ex-wife has nothing to do with him.
Comments will be moderated. Keep comments relevant to the article. Remarks containing abusive and obscene language, personal attacks of any kind or promotion will be removed and the user banned. Final decision will be at the discretion of the Taipei Times.