Minister confident ahead of fisheries talks
Minister of Foreign Affairs David Lee (李大維) yesterday expressed confidence that Taiwanese fishermen would receive improved fishing rights after bilateral talks in July between Taiwan and Japan over the Okinotori atoll dispute.
"We have negotiated with Japan on matters concerning fishing rights around Okinotori and have reached a preliminary agreement, which is to bring related maritime affairs to the negotiating table before the end of July," Lee said.
Lee said Japan has demonstrated a high level of sincerity during their previous negotiations on the matter, which he acknowledged took place before the Democratic Progressive Party (DPP) government was sworn in on Friday last week.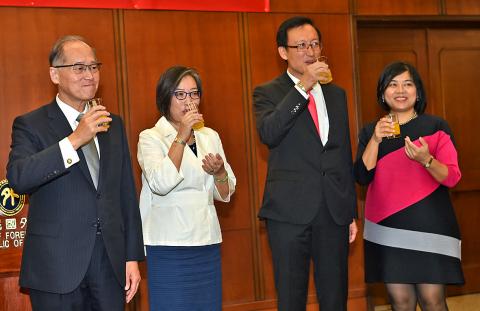 Minister of Foreign Affairs David Lee, left, and Deputy Minister Wu Chih-chung, second right, yesterday raise their glasses at a welcome party at the ministry.
Photo: Chien Jung-fong, Taipei Times
The new development signifies an implementation of President Tsai Ing-wen's (蔡英文) principles to settle disputes through communication and negotiations, Lee said, adding that the ministry would continue to uphold those principles in its interactions with Japan.
With a total area of less than 10m2, Okinotori has been at the center of an ongoing conflict between Taipei and Tokyo, sparked by the Japan Coast Guard's seizure last month of a Taiwanese fishing boat operating about 150 nautical miles (277.8km) east-southeast of the atoll.
Lee made the remarks during a gathering hosted by ministry officials in Taipei yesterday morning to welcome him and Deputy Minister of Foreign Affairs Wu Chih-chung (吳志中), who succeeds Bruce Linghu (令狐榮達).
Lee's comments came on the heels of an Executive Yuan announcement on Monday that Taipei is to establish a dialogue mechanism with Tokyo on maritime affairs cooperation and that it would not take a particular stance on the disputed legal status of Okinotori until the matter is determined by the UN Commission on the Limits of the Continental Shelf.
The announcement stands in stark contrast to the stance of former president Ma Ying-jeou (馬英九), who instructed government agencies to refer to the atoll only as "Okinotori rock" and refused to recognize Japan's expansion of its rights by unilaterally defining the feature as an "island."
Lee reiterated the ministry's determination to safeguard the rights of Taiwanese fishermen, vowing not to compromise them at the negotiation table.
"As you are all aware, Tsai herself comes from Pingtung County, which, along with Kaohsiung, are the two major strongholds of the nation's fishing industry," Lee said, adding that given Tsai's family background, it is unlikely she would tolerate policies detrimental to fishermen.
Turning to the government's reported plan to pull back two patrol vessels deployed on May 1 to protect Taiwanese fishermen operating around Okinotori, Lee said Ma had said himself on April 26 that the mission would last for only a month.
"Just as I mentioned before, we will by no means sacrifice the rights of Taiwanese fishermen. It is our responsibility to safeguard our nation's interests," Lee said.
As for the government's reluctance to call Okinotori a "rock," Lee said that as a member of the international community, Taiwan should respect the customary handlings of international disputes.
In related news, ministry spokeswoman Eleanor Wang (王珮玲) said that the date for outgoing Representative to Italy Stanley Kao (高碩泰) to leave his post remains uncertain, pending a decision from Taiwan's representative office in the country.
Kao was officially appointed by Tsai as the nation's new representative to the US late on Monday, replacing Shen Lyu-shun (沈呂巡), who assumed the post in March 2014 and reportedly asked to leave the office before Sunday next week.
"What is certain is that Kao will not report for duty before Shen's departure," Wang said.
Comments will be moderated. Keep comments relevant to the article. Remarks containing abusive and obscene language, personal attacks of any kind or promotion will be removed and the user banned. Final decision will be at the discretion of the Taipei Times.