INTERVIEW: Pension reform process to be transparent
Vice president-elect Chen Chien-jen said in a recent interview with Chinese-language 'Liberty Times' (sister newspaper of the 'Taipei Times') staff reporter Tzou Jiing-wen that he would immediately convene the national insurance fund reform committee after he is sworn into office on May 20, with a promise to deliver a draft amendment to the Legislative Yuan within the year
Liberty Times (LT): What are your opinions on the national pension reform?
Chen Chien-jen (陳建仁): The current system is overly complicated. Not only are there different government agencies handling the same affairs, but the discrepancy of rates for different vocations are also too great. Above all, potential liabilities for all the different national pensions are at an alarmingly high level.
According to estimates, funding for military personnel's, civil servants' and teachers' insurance will become insolvent in the next several years. Recent polls also show that a high percentage — 70 to 80 percent — of the public supports financial reforms and it is high time for the government to act. After all, compared with the past, the situation has become much more urgent.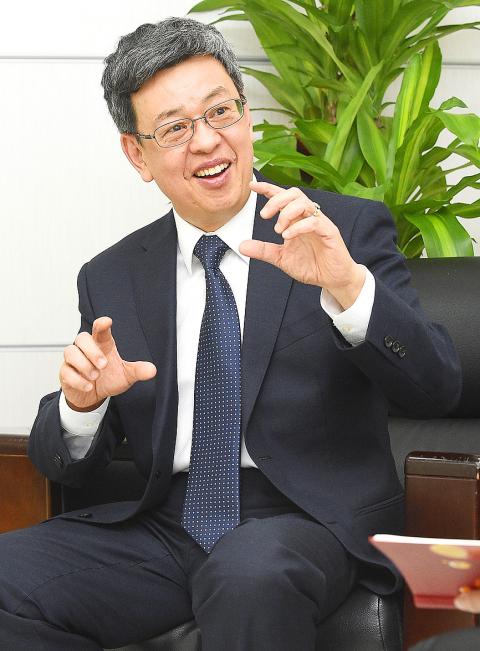 Vice president-elect Chen Chien-jen gestures during an interview in Taipei on April 19.
Photo: Chen Chih-chu, Taipei Times
Taiwan has entered a new democratic age where the public wishes to have more say in how the government does things and we hope to arrange a series of open debates as quickly as possible — hopefully within the year — to address the issue.
The reforms are inevitably a cross-yuan effort, affecting many different departments and bureaus of the Executive Yuan, the Examination Yuan's Ministry of Civil Service and the Legislative Yuan, to name a few.
In light of the amount of departments involved, we have decided to have the Presidential Office facilitate cross-departmental negotiations, as well as chair the national affairs forums in the future.
LT: How will you push for pension reform? What is the time frame and what methods are you thinking of using? Can you tell us your preliminary plans?
Chen: Compared with the nations in the Organisation for Economic Co-operation and Development (OECD) — especially in the areas of civil servants and education — Taiwan has a higher income replacement ratio. Therefore, when the nation faces financial difficulties, we would require reasonable reforms.
While these reforms should ensure that every Taiwanese would be able to receive a basic sum enabling them to have a dignified life in their old age, it must also consider the concept of intergenerational equity along with fairness in society and care for disadvantaged people.
The process of these reforms would need well-thought-out methods to include civic participation and debate if it is to achieve its goals.
Under the circumstances, it is necessary to make new estimates, comparisons and calculations for pension funds for different vocations. In the coming years, we will be offering a set of equations that would hopefully address different situations.
To fully include the opinions of people from all walks of life, the national pension reform committee, with me as the chair, will include military personnel, civil servants, teachers, workers, farmers, fishermen, women and young people. It will include working people as well as retired people, and government representatives and employers.
We estimate that the committee would have more than 30 members. At the latest, the committee would be holding its first meeting the week after president-elect Tsai Ing-wen (蔡英文) is sworn into office, followed by weekly meetings.
The reform process must be open and transparent if it is to facilitate a consensus and have open communication channels. Transparency must extend to debates on different retirement and insurance systems; the maximum amount of wages at the time of insurance; the income replacement ratio; insurance premiums; and the age when a person becomes eligible to receive pension are all information that should be made available.
Reforms aim to reach a reasonable rate through actuary data, while referencing other nations — especially OECD nations — for comparison.
We do not expect to create a one-time fix that would continue to be applied over the next century, but we hope our endeavors will at least maintain stability for one generation.
Second, we must have civic participation. Every step of debate will be streamed online, including timetables, the committee's achievements and post-meeting notes.
Not only would this guarantee information transparency, it would also remind me and the committee that we are running out of time.
By our estimates, the committee has four to six months to deal with the process, after which they must begin offering draft plans for different reforms.
The plans must have a bare minimum required pension amount. If the goal is to simply avoid the collapse of the national pension system, but the pensions are unable to meet the lowest necessary expenditures of retirees, then it would mean the government is not working hard enough. The plans must also have a ceiling, ensuring those with high incomes do not receive more money than when they were working.
For example, if the pension equations were based on an average lifespan of 70 years, it would mean that today's longer average life span — 80 years — is siphoning money from the young to subsidize the old, especially for those who are between 70 and 80 years old.
Is it to have extremely high premiums, particularly since it is the earnings of young people we are taking?
We must also consider if we should follow OECD nations and move back the age limit for pensions.
The public would be able offer opinions through the Internet or to the heads of the division in the committee after the plans are made. We would then be holding public hearings around the nation. If there are any suggestions at these public hearings, it would be forwarded to the committee, which would then make corrections after calculations.
Once the above steps have been completed, we hope to hold a national forum on the subject to vote on the pension plan.
Throughout these procedures, we have also factored in the time for possible public opinion polls to achieve further consensus, which we calculate would add another six months to the process.
So, in about a year, we expect to have a draft amendment to be forwarded to the Legislative Yuan, hoping to amend 13 different acts. While we would of course respect the natural order of progression of issues debated at the Legislative Yuan, we also hope the amendments would be passed as soon as possible.
LT: Will the reforms enacted by the incoming government be retroactive?
Chen: The people retired under the old system might not be able to hold up under such drain if we continue with the old system. Therefore, we must take both retirees and current workers into consideration and endeavor to include every aspect when making our plans.
This is also why we must have open channels of communication and provide scientific data to explain our actions.
My daughter is about 30 years old and some of her colleagues do not want to have funds deducted for Labor Insurance, because they are afraid they would lose everything if the fund goes bankrupt.
It is not just elderly people, but youths are also scared and uncertain. If the public, across all generations, is scared, then it means the government has done nothing.
LT: Previous governments have encountered great difficulty trying to enact reforms. What do you think is the primary cause for the obstacles?
Chen: The primary reason previous governments failed to reform the pension fund is that many of the separate insurance systems were all making their own individual attempts.
When I visited Examination Yuan President John Kuan (關中), he gave me four pages of advice.
According to Kuan, the government's public hearings in the past consisted of mono-directional explanations and not mutual communication, making it difficult for the public to accept reform.
More importantly, the ministries were not really talking to each other, nor were they making comments during committee meetings so it was difficult to arrive at a consensus, and this is why we think the Presidential Office should have a prominent presence in the coordination of pension reform.
As mentioned by several former Examination Yuan presidents, the committee managing the pension fund is comparatively reserved, and the government must work to improve the fund's performance.
The pensions system must also be tied to social safety systems to a certain degree. If a person on pension is healthy in mind and body and is capable of living independently, then they might feel the pension is sufficient. Therefore, we must promote healthy aging and incorporate preventative medicine, healthcare and long-term care into the pension system.
LT: Past administrations were able to win the trust and support of the public if they achieved one thing during their time in office. Pension reform should be the most important mission for the incoming government, as it has a wide impact.
Chen: For me, this issue — the national pension — would be our cross to bear. We must have wisdom, empathy and courage: wisdom to ensure that a sustainable model is derived from actuary science; empathy to care for people, especially disadvantaged people; and courage to negotiate a consensus amidst hardship and various challenges.
Only through empathy are we able to join together in building a new system that would provide for us all. The people on the right-hand side of an M-shaped society should be glad to take care of those on the left, while those with lower income should also be happy to see the high-income earners enjoy a slightly higher pension within limits.
Pension reform is a science and an art that hopes to achieve social consensus through democratic communication.
For us, it is a challenge made all the more daunting by social expectations, but we will give it everything we have despite the pressure.
Translated by Jake Chung, staff writer
Comments will be moderated. Keep comments relevant to the article. Remarks containing abusive and obscene language, personal attacks of any kind or promotion will be removed and the user banned. Final decision will be at the discretion of the Taipei Times.