Bears in Yushan face poaching dangers
The Formosan black bear population in Yushan National Park is in danger from poaching and mutilation, the Formosan Black Bear Conservation Association said.
Association honorary president Hwang Mei-hsiu (黃美秀), who is also the director of the National Pingtung University of Science and Technology Institute of Wildlife Conservation, said the association observed the danger using automated cameras that monitor the bears.
The cameras were set up with funds from the association and the Ministry of Science and Technology, Hwang said.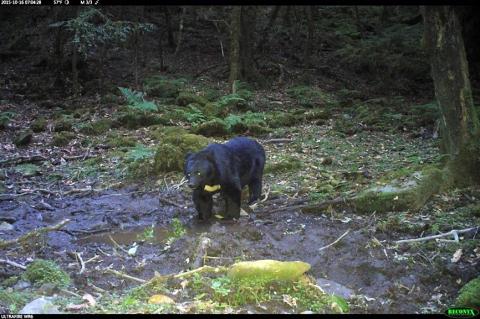 A mutilated Formosan black bear walking in Yushan National Park is shown in an undated photograph.
Photo courtesy of the Taiwan Black Bear Conservation Association
The photographs captured an amazing amount of wildlife activity in mountain areas 2,000m above sea level, Hwang said.
Hwang said the association first saw a bear that was mutilated — with one of its paws cut off — in October last year, adding that they saw photographs of another bear whose right-front paw only had one claw remaining.
The association said the cameras were set up in national parks, adding that not only are the areas well removed from tourists, the surrounding area also showed no signs of illegal hunting.
Judging from the wide habitat for the bears — more than 10,000 hectares, which includes territory outside of national parks — the association said it is possible that illegal traps have been set outside of park areas.
The traps pose a significant threat to the bears, the association said, calling on both the public and the government to empathize the issue and prevent such traps from being used.
It is possible bear paws have been removed for Chinese medicinal remedies or to be eaten as a delicacy, the association said.
Comments will be moderated. Keep comments relevant to the article. Remarks containing abusive and obscene language, personal attacks of any kind or promotion will be removed and the user banned. Final decision will be at the discretion of the Taipei Times.