Luo criticized over man's death in Panama
Legislators accused Minister of Justice Luo Ying-shay (羅瑩雪) of selling out the nation's sovereignty as well as the legal rights of Taiwanese after reports emerged that a Taiwanese man died while being moved from Panama to Cuba as part of an extradition request by China.
New Power Party (NPP) Legislator Huang Kuo-chang (黃國昌) questioned Luo over the ministry's handling of situations involving Taiwanese in foreign nations where China has sought to assert its judicial jurisdiction.
At a Judiciary and Organic Laws and Statutes Committee meeting, Huang said that the Panama situation involved a Taiwanese man living in the Central American nation, one of Taipei's diplomatic allies, who was wanted by Chinese authorities in connection with a criminal investigation.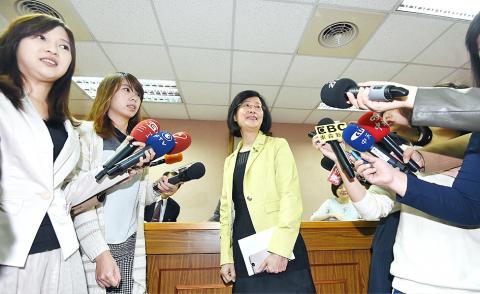 Minister of Justice Luo Ying-shay, center, walks down a corridor at the Legislative Yuan in Taipei yesterday.
Photo: Liu Hsin-de, Taipei Times
The man sought assistance from the Republic of China embassy in Panama, which asked the justice ministry and the Ministry of Foreign Affairs for instructions, Huang said.
Luo said the Ministry of Justice had received the report and sought more information regarding the case.
However, according to reports by diplomatic officials, the man committed suicide by jumping off a building, while Panamanian authorities had orders to deport him to Cuba, a diplomatic ally of Beijing, after the Chinese government requested extradition.
Lawmakers and commentators have questioned whether the man's death was a suicide, asking whether he might have been killed while in police custody or while on the way to Cuba.
Huang said the situation was in part due to Luo and the Ministry of Justices' tardiness in handling the case, while the government had not provided assistance to Taiwanese in Panama.
Huang said that he was angered by Luo's response, saying her remark: "Then the man died" gave the impression of a nonchalant attitude regarding the incident and was a denial of her ministry's responsibility.
"It was because of your tardiness in handling the case that it resulted in this tragedy, but you said these words as though you were gloating, without any shame," Huang said.
Videotape and transcripts of Huang's exchanges with Luo have been widely circulated online, where netizens mostly condemned the minister, while many accused the ministry of reacting too slowly to the plight of an overseas Taiwanese and accused Luo of a poor attitude toward a death in murky circumstances.
Huang and other legislators said that Luo and the justice ministry had acquiesced to Beijing's extradition request in the Panama case and other disputes involving Taiwanese overseas, pandering to requests by Chinese authorities and selling out the nation's sovereignty.
Comments will be moderated. Keep comments relevant to the article. Remarks containing abusive and obscene language, personal attacks of any kind or promotion will be removed and the user banned. Final decision will be at the discretion of the Taipei Times.