Taiwan's 'musical road' unveiled
DO-RE-MI: The concept of driving over a grid to make a noise to alert drivers about speed has taken on a new design with anti-slip strips tuned to a Taiwanese song
The nation's first "musical road" was unveiled in Kinmen's Dinglin Road (頂林路), where cars driving at 50kph play a tune generated by the vibrations between their wheels and the notches placed on the road, a team of researchers from National Quemoy University said.
First conceived in Denmark, musical roads aim to keep drivers awake and encourage them to drive under the speed limit, said Liao Yi-chun (廖翊君), a civil engineering student at the university.
The 85-meter-long section of road in Kinmen is an improved version of an experimental project by the university, researchers said, adding that the new section was paved on the same stretch of Dinglin Road to replace the original patch paved two months ago, which was eroded by rain.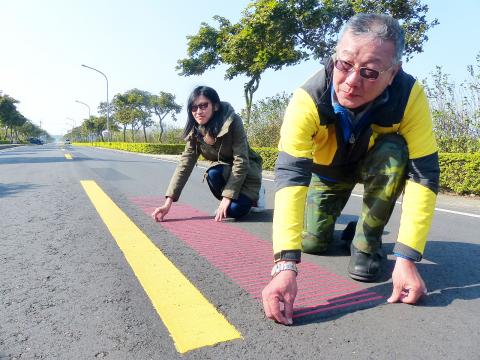 Members of a research team stick anti-skid material on a road in Kinmen County on Tuesday last week.
Photo: Wu Cheng-ting, Taipei Times
The project was funded by the Ministry of Science and Technology, the researchers said.
The previous version of the road played a section from Beethoven's ninth Symphony, while the new one plays a section from The Olive Tree, a Taiwanese song by Chyi Yu (齊豫), they said.
Some drivers were cited by the researchers as joking that they wonder whether drivers who are unaware of the design would be scared or delighted when driving over the road and hearing a song.
Conventional musical roads use grooves cut into the road surface to generate the desired tune, but the team in Kimen used household anti-slip strips to the same effect, without the need to permanently alter the existing road, said Shui Li-fu (水利夫), research team member and a civil engineering student at the university.
"The road in Kinmen is designed to keep drivers awake with music while giving an audible warning to drivers who exceeded the speed limit by making discordant and high-pitched sounds," Shui said.
While the Ministry of Science and Technology's funding only covered the cost of building a short stretch of road that plays eight notes, the team hopes that the Kinmen County Government would allocate a budget for a full installation, the researchers said, adding that they might change the tune to the Republic of China anthem if they receive funding.
Comments will be moderated. Keep comments relevant to the article. Remarks containing abusive and obscene language, personal attacks of any kind or promotion will be removed and the user banned. Final decision will be at the discretion of the Taipei Times.