Ko, Chu agree on commission to resolve debt
Taipei and New Taipei City are to establish a joint commission to resolve issues surrounding debts the two municipalities owe each other as a result of errors in calculating subsidies for bus transportation costs before implementing a proposed NT$1 increase in bus fare.
Taipei Mayor Ko Wen-je (柯文哲) and New Taipei City Mayor Eric Chu (朱立倫) made the announcement at Taipei City Hall after the second mayoral meeting since their inauguration to discuss a range of major policies involving both municipalities.
Chu said that with fuel and long-distance bus transportation prices plunging over the past two years, the two municipalities should recalculate subsidies they grant bus operators before giving the bus fare hike the green light.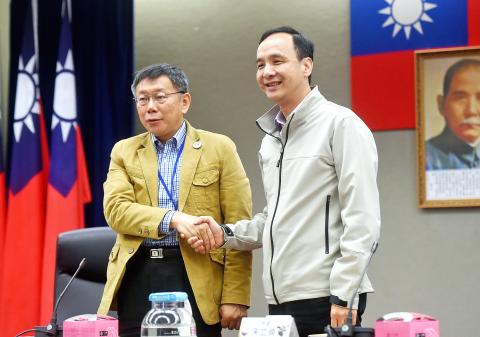 Taipei Mayor Ko Wen-je, left, shakes hands with New Taipei City Mayor Eric Chu at Taipei City Hall yesterday during a mayoral meeting.
Photo: Chien Jung-fong, Taipei Times
He said that New Taipei City last month returned NT$86 million (US$2.64 million) in excess subsidies Taipei paid New Taipei City between 2007 and 2010 under a mutual subsidy program.
As to an estimated NT$225 million subsidy Taipei owed New Taipei City between 2013 and last year after the latter took over bus routes originally operated by the Cabinet-level Directorate General of Highways, Chu said that Ko promised to return the money after ascertaining the amount of the debt.
He said that the two municipalities were expected to unify the method employed when determining bus subsidies issued to each other in October.
Ko said that the proposed bus fare rise, originally scheduled to go into effect this month, would be put on hold indefinitely.
As for the planned Minsheng-Xizhi (民生汐止) MRT line between Taipei and New Taipei City, Chu said that the two cities would deliver a route plan to the central government for approval.
With the recent inauguration of the New Taipei City Department of Rapid Transit Systems, the line would be constructed by the department and its Taipei counterpart, Chu said.
He also called on president-elect Tsai Ing-wen's (蔡英文) incoming administration to support urban renewal efforts led by the two municipalities by relaxing rules on the bonus floor space to be received by residents taking part in these projects, as well as release state-owned land in the two municipalities needed to push such projects.
He urged the Taipei Water Department, which supplies water to four districts in New Taipei City, to speed up the replacement of lead pipes — an issue that sparked widespread panic last year over potential health risks associated with lead-contaminated water.
Regarding plans to share public columbarium facilities in Taipei and New Taipei City, Ko said that the two municipalities would work toward the goal to close the price gap between fees charged to residents of the two municipalities.
Comments will be moderated. Keep comments relevant to the article. Remarks containing abusive and obscene language, personal attacks of any kind or promotion will be removed and the user banned. Final decision will be at the discretion of the Taipei Times.