Matsu lighthouse designated national historic site
A 112-year-old lighthouse on one of the outlying islands of Matsu has been upgraded to a national historical monument, with a ceremony marking the event to be held on July 1, Lienchiang County Cultural Affairs Department Director-General Wu Hsiao-yun (吳曉雲) said.
Dongyong Lighthouse in Lienchiang County's Dongyin Township (東引) was first designated a national historical landmark by the Council of Cultural Affairs in 1988, but it was later downgraded to a county heritage site following changes to the Cultural Heritage Preservation Act (文化資產保存法).
Lienchiang County had been fighting for the lighthouse to reattain its status as a national landmark since 2008, Wu said.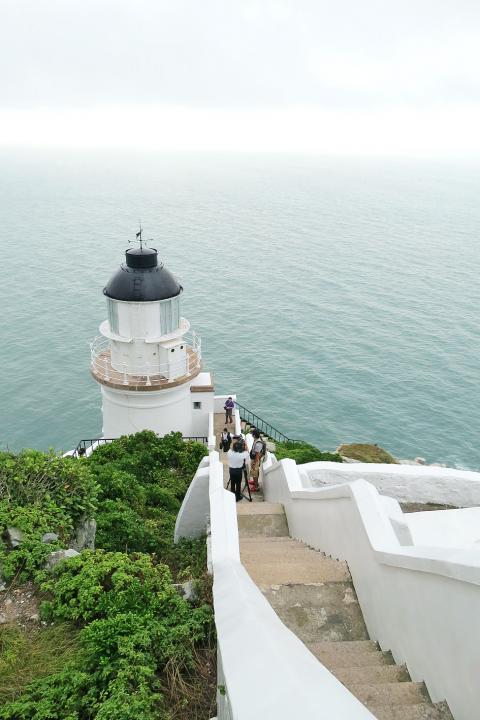 Visitors take pictures at the Dongyin Lighthouse in Dongyin Township, Lienchiang County, on Sunday.
Photo: Yu Chao-fu, Taipei Times
The county's appeal gained ground after a restructuring of the Executive Yuan, which transferred management of the lighthouse from the Ministry of Finance's Customs Administration to the Ministry of Transportation and Communication's Maritime and Port Bureau, whose director-general, Chi Wen-jong (祁文中), supported the application, Wu said.
The European-style lighthouse situated on the slope of Shih Wei Mountain (世尾山) was built with financing from the British government a year after the British steamer SS Sobraon ran aground and sank near Dongyin Island in 1901, the Matsu National Scenic Area office said.
Although all passengers and crew survived the shipwreck, the shipping firm suffered heavy losses, and with the opening of maritime traffic to the Port of Sandu, it was decided that a lighthouse was necessary to mitigate navigational risks.
The lighthouse used to be a strictly restricted facility and lighthouse workers lived with their families in an adjacent dormitory, and raised their own chicken and pigs for meat.
The materiel and comforts provided by the lighthouse was said to be the envy of local residents, who nicknamed the facility "the Dongying Mansion," which has stuck to this day.
The elegant structure has become a major attraction for tourists — including South Korean, Chinese and Western visitors.
Lienchiang County Commissioner Liu Tseng-ying (劉增應) said he was glad to see the lighthouse's designation as a national historic monument, adding that he hoped the Maritime and Port Bureau and the Department of Cultural Affairs would invest resources in the lighthouse to promote tourism on Matsu.
The lighthouse could become a third attraction in addition to Matsu's famed rare Chinese crested tern and bioluminescent blue tide, Liu said.
Comments will be moderated. Keep comments relevant to the article. Remarks containing abusive and obscene language, personal attacks of any kind or promotion will be removed and the user banned. Final decision will be at the discretion of the Taipei Times.