Exhibition about George Kerr marks 228 anniversary
A special exhibition on George Kerr — a US diplomat during the 228 Incident, an academic and supporter of Taiwanese democracy — has been organized by the Taipei Department of Information and Tourism to mark this year's commemoration of the Incident.
The exhibition opened on Wednesday and is scheduled to run until May 22. It focuses on Kerr's life, his experience of and writings on the 228 Incident and his contribution to democracy in Taiwan, as well as his transformation into a supporter of Taiwanese independence.
The 228 Incident refers to a massacre that begin on Feb. 28, 1947, that was carried out by then-Chinese Nationalist Party (KMT) government troops to quell a popular uprising. The massacre marked the beginning of the White Terror era. The number of people who were killed or went missing remains unknown, but some historians have put the figure in the tens of thousands.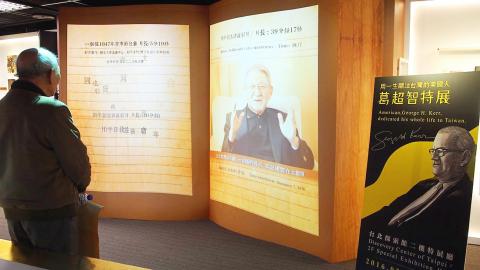 A man watches a film on Wednesday in a special exhibition on George Kerr, a US diplomat who witnessed the 228 Incident, in the Discovery Center of Taipei. The exhibition is scheduled to run until May 22.
Photo: Tsai Ya-hua, Taipei Times
As a witness, Kerr's English-language writings about the 228 Incident had a major impact on Taiwan's historiography of the event, said Chen Yi-shen (陳儀深), an Academia Sinica associate research fellow and a historian.
Chen added that viewing the 228 Incident from the perspective of a US observer is unique to Taiwan's commemorative events and museum exhibitions on the subject.
Chen said that Kerr was in Taipei when government troops opened fire on civilians gathered before the provincial government compound.
Dining in a nearby venue, Kerr ran to the sound of gunfire and found six people with gunshot wounds lying on the square; after determining that four had died, he took the two wounded to a hospital, a courageous act that was applauded by the crowd at the scene, Chen said.
Kerr was forced to leave Taiwan after the 228 Incident, but remained in contact with pro-independence activists, and the White Terror led him to become a supporter of Taiwanese independence, Chen said.
Although Kerr was not a member of the pan-green camp, he was deeply concerned with the lives, liberty and future of Taiwanese people, for which he should be commemorated, Chen added.
In 1937, Kerr first visited the then-Japanese colony of Taiwan and stayed to teach English classes at the Taihoku First Middle School, Taihoku School of Higher Education and Taihoku College of Commerce, which respectively became the modern-day Taipei Municipal Jianguo High School, National Taiwan University of Education, and the National Taiwan University's College of Law and College of Management.
During World War II, Kerr served as a US Navy officer and later as an analyst in the US Department of War, specializing in Taiwan.
In 1946, Kerr was made the US vice-consul in Taipei and after ending his service with the US government became an academic, teaching at institutions, such as Stanford University and the University of California, Berkeley.
Perhaps his best-known book about Taiwan is Formosa Betrayed, in which he detailed the 228 Incident and vociferously criticized the then-KMT government.
Kerr died in 1992.
The exhibition on Kerr, held in the Discovery Center of Taipei's second floor, tells his story with personal and family photographs in seven thematically organized sections, including his early experience in East Asia, his career as an English teacher at Japanese colonial schools in Taiwan and his collection of Taiwanese historical artifacts and documents.
There is a section dedicated to the 228 Incident and a filmed interview with Kerr by Japanese interviewer Chosei Kabira.
The exhibition also revealed a previously unpublished recording of Kerr made in 1989 by a Japanese friend, in which Kerr talked about his experience in Taiwan and thoughts about the nation's future.
"The special exhibition discusses transitional justice from an uncommon perspective and uses a more commercial and approachable way to convey the story of George Kerr. We hope it will inspire young visitors to re-examine the meaning of fairness and justice," Department of Information and Tourism Commissioner Chien Yu-yen (簡余晏) said.
Comments will be moderated. Keep comments relevant to the article. Remarks containing abusive and obscene language, personal attacks of any kind or promotion will be removed and the user banned. Final decision will be at the discretion of the Taipei Times.