NTU unveils new 'garage' for entrepreneurs
The National Taiwan University (NTU) yesterday lifted the curtain on the "NTU Garage" — a unit to nurture young entrepreneurs.
Speaking at the inauguration ceremony for the unit's new premises, NTU president Yang Pan-chyr (楊畔池) said he started the program with hope of providing students and faculty with a friendly space to realize their innovative ideas, and that he was glad to see the "garage" has grown since its founding in 2013.
The garage is a brightly lit, modern office located on the fourth floor of an old building that does not have an elevator.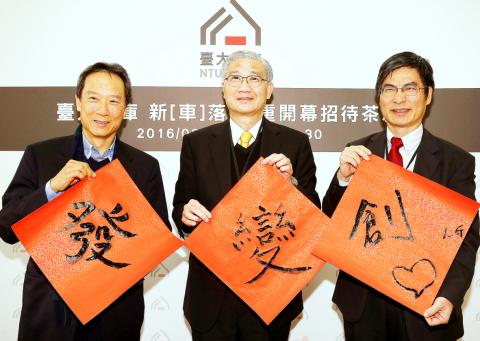 National Taiwan University president Yang Pan-chyr, center, is accompanied by vice president Chen Liang-gee, right, and Lee Ji-ren, head of Taidah Enterpreneurship Center, at a tea party yesterday in Taipei to mark the inauguration of a new building for the university's NTU Garage.
Photo: CNA
NTU Garage director Yute Liu (柳育德) said that the facility accepts applications every three months.
Start-ups that qualify for programs at the garage would enjoy various kinds of training and assistance for six months, with the overlapping period between applications and the program's course designed to promote exchanges between the last group of participants and newcomers.
Participants receive legal and accounting consulting about setting up firms, as well as learn from experienced instructors, Liu said.
One of the NTU Garage's partners is Acer founder Stan Shih's (施振榮) Chinese Consumer Center, whose employees visit the facility regularly to teach interview skills and provide input on market trends in Chinese-speaking communities, Liu said.
Participants also receive opportunities to demonstrate their products to other teams, he said.
NTU Garage participant Winston Huang (黃仁佑) runs a small firm named Clipo that makes Internet-based project management system for corporations.
Huang said that the garage is sending his firm to the Plug and Play Tech Center in the US, where he expects to establish connections and seek investors.
NTU vice president Chen Liang-gee (陳良基), who oversees the project, said the facility is tasked with creating job opportunities because the NTU, as a public university, should give back to society.
Chen said that since the facility's launch, participants have raised a total of more than NT$100 million (US$2.98 million).
Chen said the nation was practically absent in the Internet-based economy ushered in about 2005, producing very few notable players — for example social networking Web site Plurk — while a list of overseas firms have a market value exceeding US$1 billion, citing as an example the US-based Uber, which he said has a net worth that can rival that of the nation's premium chip fabricator Taiwan Semiconductor Manufacturing Corp.
He said that when a technology firm creates one job opportunity, it would create five more job opportunities in the broader society, and that he hoped that local technological start-ups would set their sights on expanding business overseas.
Taidah Entrepreneurship Center chief executive officer Rhonda Chen (陳如芬) said that as young entrepreneurs might not have the money to set up an office, they can go to the NTU Garage to work, which saves them the cost of renting a space.
People must have at least one NTU student or alumnus on their team to be eligible to apply for programs at the NTU Garage, Chen said.
Comments will be moderated. Keep comments relevant to the article. Remarks containing abusive and obscene language, personal attacks of any kind or promotion will be removed and the user banned. Final decision will be at the discretion of the Taipei Times.