KMT's chairperson vote unfair: Lee Hsin
Chinese Nationalist Party (KMT) chairperson candidate Lee Hsin (李新) yesterday urged a rival, KMT acting chairperson Huang Min-hui (黃敏惠), to resign from her post to ensure a level playing field for all candidates.
In front of several cardboard placards showing his campaign pledges, Lee showed his discontent with what he called the party's unjust chairperson by-election by beating a drum in front of the KMT's headquarters in Taipei.
"Both candidates in the KMT's 2007 chairperson by-election — then-acting chairman Wu Poh-hsiung (吳伯雄) and then-legislator Hung Hsiu-chu (洪秀柱) — stepped down from their posts as party acting chair and Central Standing Committee member respectively to prevent the public from making a fuss about the issue," Lee said.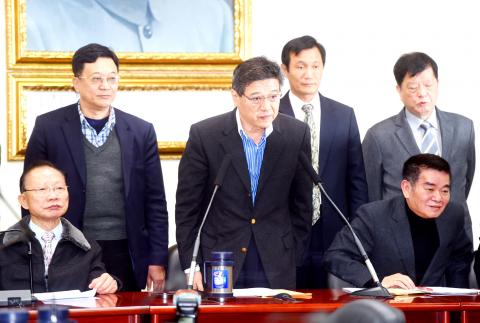 Chinese Nationalist Party's (KMT) Central Standing Committee member Lin Rong-te, center, yesterday announces his decision to withdraw from the KMT's chairmanship by-election at a press conference in Taipei.
Photo: Chien Jung-fong, Taipei Times
Lee — who serves as a Taipei City councilor — said Huang should follow the pairs' example and avoid giving the public the impression that she is "both a player and a referee in the game."
Lee criticized Hung — who is also vying for the KMT chairpersonship — over her refusal to attend a public forum to be held on Saturday by several KMT-affiliated civic groups founded by younger party members.
The forum, called "Chairperson, may I ask a question?" invites all chairperson candidates to answer queries regarding the party's future.
"Hung should publicly expound her ideas and values. If she is afraid to attend such an event, how is she going to lead the KMT and enable the party to act as a balance to the Democratic Progressive Party?" Lee said.
"Does Hung really think she can win the by-election lying down? What else can we expect from someone who is so arrogant — even without power?" he asked.
Lee urged KMT headquarters to abolish the 3 percent signature threshold necessary for hopefuls to register their candidacy, a mechanism that he said has been marred by forgery and fabrication.
He also called for transparency in the KMT headquarters' determination of signature validity, saying they should let candidates know which of the signatures they obtain are deemed invalid rather than simply giving out a number.
Under the terms of the KMT's by-election regulations, only hopefuls who collect signatures from at least 3 percent of all party members before Sunday can officially register as candidates in the March 26 election.
In related news, KMT Central Standing Committee member Lin Rong-te (林榮德) announced his decision to drop out of the by-election, bringing the number of contenders to four.
"For the sake of party solidarity and the bigger picture, as well as my aspiration to let someone more capable to lead the party and my mother's strong opposition to my bid, I have determined to withdraw from the race," Lin said.
Comments will be moderated. Keep comments relevant to the article. Remarks containing abusive and obscene language, personal attacks of any kind or promotion will be removed and the user banned. Final decision will be at the discretion of the Taipei Times.