Legislator calls for movie censorship
Movies should be reviewed for discriminatory and offensive comments toward Aborigines before being approved for release, Democratic Progressive Party (DPP) Legislator Chen Ying (陳瑩) said yesterday, following controversy over the new film David Loman 2 (大尾鱸鰻2).
"If there is any discriminatory wording, it should be revised or deleted before the film is allowed to be released," said Chen, who is a Puyuma community representative for Plains Aborigines.
Chen also called for the passage of a racial equality act (人群平等法) to penalize discriminatory speech.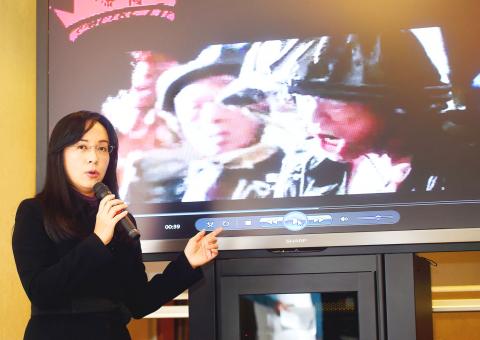 Democratic Progressive Party Legislator Chen Ying speaks at a news conference in Taipei yesterday.
Photo: Fang Pin-chao, Taipei Times
Her call came following controversy over the portrayal of Aborigines in the movie David Loman 2 — one of the most successful nationally produced films released during this year's Lunar New Year holiday.
The film's protagonist in one scene runs into a crowd protesting against the storage of nuclear waste on Orchid Island (蘭嶼, also known as Lanyu), with one character speaking gibberish to the protesters, who call him a "lunatic."
The scene last week drew criticism from New Power Party (NPP) Legislator Kawlo Iyun Pacidal, who said it inaccurately portrayed the speech of Yami Aborigines (達悟族), native to the island, and accursed it was insensitive over nuclear waste issues.
Kawlo demanded that parts of the movie that she deemed discriminatory be edited out of the film.
Film director Chiu Li-kuan said that critics misinterpreted the scene, which she said was intended to make the audience laugh at the protagonists, not the protesters. She also denied that the protesters were Yami, while adding she was "sorry" that the "poorly considered" design of the scene might have implied it was about members of the Yami community.
Chen yesterday said Chiu's response was "irresponsible."
"They can say it was unintentional or they did not mean it, but the reality is that you have already caused harm by making people feel uncomfortable," she said. "If you can just say 'I did not mean it,' then we can all say whatever we want."
"Rigorous deterrence of discriminatory speech against minorities is important because many people are not familiar with the communities, increasing the damage of remarks that reinforce inaccurate stereotypes," she said.
Meanwhile, Chu Yu-hsun (朱宥勳), who has written several books and edited anthologies of contemporary Taiwanese fiction and essays, said in a Facebook post late on Sunday night that he is against the call for political censorship of films for discriminatory content, as it would threaten creative freedom.
"Creative freedom means that you can show whatever you want, while taking responsibility and paying the price for whatever you show," he wrote, stating that opponents could protest or organize boycotts.
"If your company goes bankrupt, that is your own fault, but no matter what the reason, there is no excuse for the government to engage in a review of content," he wrote.
"If Kawlo made the suggestion as an Aborigine, it would be less problematic, but if she did so in the capacity of a member of her legislative caucus, it would be problematic," Chu said in the post.
Comments will be moderated. Keep comments relevant to the article. Remarks containing abusive and obscene language, personal attacks of any kind or promotion will be removed and the user banned. Final decision will be at the discretion of the Taipei Times.