ELECTIONS: 'League' candidates win three of eight Taipei constituencies
CAPITAL REFORM CLOUT: DPP legislative candidates Rosalia Wu and Pasuya Yao won in the capital's first and second constituencies respectively, while New Power Party candidate Freddy Lim won in the fifth
Candidates associated with the so-called "Capital Reform League" — whose candidacies were endorsed by Taipei Mayor Ko Wen-je (柯文哲) and the Democratic Progressive Party (DPP) — clinched three of Taipei's eight constituencies in yesterday's legislative elections.
The eight-member league consists of DPP candidates Rosalia Wu (吳思瑤) and Pasuya Yao (姚文智); People First Party (PFP) candidate Vivian Huang (黃珊珊); New Power Party (NPP) candidate Freddy Lim (林昶佐); Green Party-Social Democratic Party Alliance candidate Fan Yun (范雲); and independent candidates Billy Pan (潘建志), Yang Shi-chiu (楊實秋) and Lee Ching-yuan (李慶元).
Wu seized Taipei's first constituency, which includes Beitou District (北投) and parts of Shilin District (士林), from Chinese Nationalist Party (KMT) Legislator Ting Shou-chung (丁守中) by 95,951 votes. Wu announced her victory just two hours after polls closed at 4pm, overtaking the veteran lawmaker, who served seven terms in the legislature.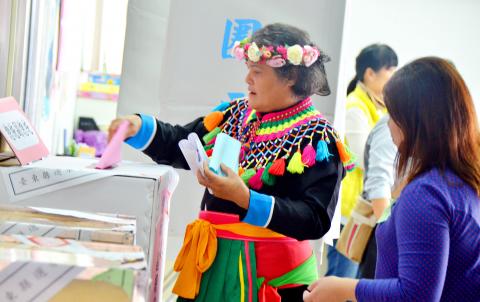 An Amis Aboriginal woman from the Dulan community casts her ballot in yesterday's presidential and legislative elections in Taitung County.
Photo: CNA
Yao, the legislator in Taipei's second constituency, which covers Datong (大同) and Shilin, was re-elected, beating New Party legislative candidate Pan Hwai-tzong (潘懷宗) by a margin of 22.86 percent, with the constituency being the only one in Taipei where the KMT did not field a candidate.
KMT candidate Chiang Wan-an (蔣萬安), grandson of former president Chiang Ching-kuo (蔣經國) and son of former KMT vice chairman John Chiang (蔣孝嚴), won the third constituency, which includes Zhongshan (中山) and Songshan (松山) districts, against independent candidate Billy Pan (潘建志) by 89,673 votes.
Chiang Wan-an's replacement of KMT Legislator Lo Shu-lei (羅淑蕾) as the party's candidate in the constituency was described as avenging his father, who was legislator in the constituency until he lost the candidacy to Lo in the KMT primary ahead of the previous legislative elections.
Huang lost to KMT candidate Lee Yan-hsiu (李彥秀) in the fourth constituency, which covers Neihu (內湖) and Nangang (南港) districts, by a narrow 4,012 votes, which doomed the PFP's only candidate in Taipei, although opinion polls had placed Huang ahead of Lee Yan-hsiu by as much as 15 percentage points.
Lim edged KMT Legislator Lin Yu-fang (林郁方) by a narrow margin of 3.93 percent in one of the most closely fought races in Taipei — the fifth constituency, which covers Wanhua District (萬華) and parts of Zhongzheng District (中正) — with the two exchanging the lead several times.
Singer-turned-politician Lim was one of three NPP candidates who won legislative seats yesterday, lifting the party to third on the list of most elected legislators.
In the sixth constituency, which covers Daan District (大安), KMT Legislator Chiang Nai-hsin (蔣乃辛) warded off Fan, the Social Democratic Party chairwoman and the alliance's only candidate who had secured DPP endorsement.
Chiang Nai-hsin was re-elected with a comfortable margin of 17,249, but Fan closed the KMT's lead from 30.08 percent in the previous elections to 10.73 percent percent in the constiuency, where all legislative elections have been won by KMT candidates since a redrawing of Taipei's constituencies in 2008.
In the embattled seventh constituency, which covers Xinyi District (信義) and part of Songshan, Yang lost to KMT Legislator Alex Fai (費鴻泰) by 4,573 votes.
Fai was one of the three KMT legislators to be re-elected in Taipei.
Lee Ching-yuan lost to KMT Legislator Lai Shyh-bao (賴士葆) in the eighth constituency, which covers Wenshan District (文山) and parts of Zhongzheng, by 23,472 votes, with Lai leading throughout the race.
KMT Keelung legislative candidate Hau Lung-bin (郝龍斌) lost to DPP candidate Tsai Shih-ying (蔡適應) by a margin of 5.3 percent, with PFP candidate and veteran politician Liu Wen-hsiung (劉文雄) trailing far behind.
Despite having served two terms as Taipei mayor and "parachuting" into the Keelung election as KMT vice chairman, Hau lost to the DPP city councilor in a race that saw the two exchange the lead in the early hours of vote-counting.
Hau resigned as party vice chairman after conceding defeat.
DPP candidate Lu Sun-ling (呂孫綾), a first-time candidate, beat KMT Legislator Wu Yu-sheng (吳育昇) in New Taipei City's first legislative district, topping Wu Yu-sheng by a comfortable margin of 12.4 percent and ousting the scandal-ridden politician.
DPP candidate Su Chiao-hui (蘇巧慧), daughter of former premier Su Tseng-chang (蘇貞昌), defeated KMT Legislator Huang Chih-hsiung (黃志雄) in New Taipei City's fifth constituency by 25,223 votes, marking another win by descendants of politicians.
Comments will be moderated. Keep comments relevant to the article. Remarks containing abusive and obscene language, personal attacks of any kind or promotion will be removed and the user banned. Final decision will be at the discretion of the Taipei Times.