ELECTIONS: Sunflower leaders endorse party's election alliance
Sunflower movement leader Dennis Wei (魏揚) yesterday endorsed the Green Party-Social Democratic Party Alliance, in the party's latest move to compete with the New Power Party (NPP) to serve as the movement's standard bearer in next Saturday's elections.
The student movement in 2014 saw the Legislative Yuan's main chamber occupied for three weeks as part of protests against the government's handling of a trade in services agreement with China.
"I originally would have supported the Green Party because it is close to my own political convictions — caring for the land, the environment and workers' rights. I think it can be fairly said that the Alliance stresses these issues, while the NPP focuses on legislative reform and the Taiwan Solidarity Union on national identity," Wei said.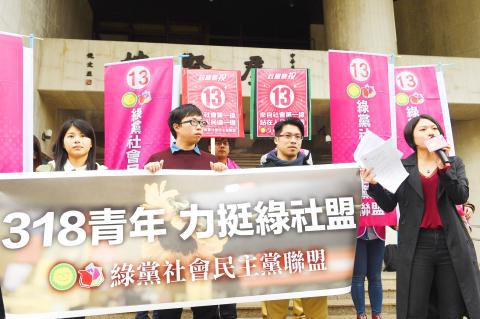 From right to left, Sunflower student leaders Lin Yu-hsuan, Liu Lee Chun-ta, Dennis Wei and Yeh Chen-i voice their support for the Green Party-Social Democratic Party Alliance outside the legislature yesterday.
Photo: George Tsorng, Taipei Times
"I think all of them are great, but I hope that the party which concentrates on land and labor rights can make it into the legislature," he said, adding that while the Democratic Progressive Party's (DPP) nomination of civil activists was commendable, voting for small parties was unlikely to cost the party a substantial number of seats.
The Alliance and NPP emerged following a split among activists seeking to form a political party following the Sunflower movement, but integration negotiations last year failed over relations with the DPP.
The NPP has successfully recruited several prominent movement members, with leaders Chen Wei-ting (陳為廷) and Wu Cheng (吳崢) both heading the campaigns of NPP legislative candidates.
Wei said his own work as a campaign staffer for NPP legislative candidate Chiu Hsien-chih (邱顯智) was a combination of coincidence and personal ties.
"I have helped Chiu because he is in Hsinchu and I also happen to be there. He has also helped defend me in court," Wei said.
He and other student representatives declined to directly criticize the NPP, with Wei saying that he hoped the Alliance and the NPP would be able to cooperate if they both win legislative seats.
Separately yesterday, Lin Fei-fan (林飛帆), another Sunflower movement leader, said he supported both parties, adding that both of their memberships included "important partners" from the movement.
"While the issues they focus on are slightly different, that is just because there are a huge number of social movement areas and topics. I feel that while they only have differences in electoral strategy — their objectives and ideas are practically identical," he said.
Comments will be moderated. Keep comments relevant to the article. Remarks containing abusive and obscene language, personal attacks of any kind or promotion will be removed and the user banned. Final decision will be at the discretion of the Taipei Times.