FEATURE: Teachers offer Aboriginal students orchestra option
Since 2008, teachers Chen Pei-wen (陳珮文) and her husband, Wang Tzu-chien (王子建), have endeavored to bring professional musical education to Aboriginal students at Nantou County's Chin Ai Elementary School.
The orchestra of Aboriginal children and young adults — current and former students of the school in Renai Township's (仁愛) remote Cinai Village (親愛) — on Dec. 12 performed its first major concert at the National Taiwan Arts Educational Center in Taipei, playing classical string instruments while wearing traditional Aboriginal clothing.
Chen said members of the audience told her that the Chin Ai Philharmonic performed "the most moving music they had ever heard."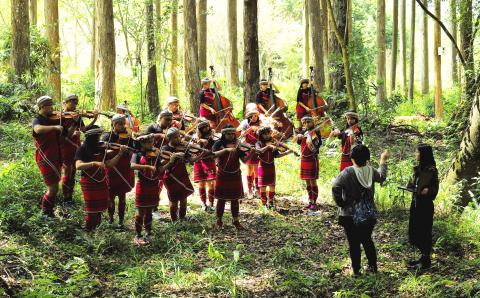 A string band from Chin Ai Elementary School in Nantou County performs in the woods in Nantou County on Dec. 20 last year. All tickets to their six concerts were sold out within a day after their teacher, Chen Pei-wen, called for public support on Facebook.
Photo: CNA
Tickets for the orchestra's six scheduled performances at four venues had completely sold out, Chen said, adding that the proceeds had gone toward the musical education program.
The story for Chin Ai Philharmonic began seven years ago, when students who saw Chen practicing the violin asked to be taught to play the instrument, she said.
The violin lessons bloomed into a full education program that involved almost all of the school's 58 students, Chen said, adding that it aimed to provide a pathway to a musical career instead of employment in industry, Chen said.
"There were many difficulties. In addition to funding, we had to find music instructors and of course there was pushback from parents. Families in remote villages expect their children to leave the village and start earning as soon as they graduate from middle school," Chen said.
"It was hard for them to accept that their children might enter senior high schools and universities to learn music," she added.
To provide opportunities to elementary-school graduates for musical instruction, Chen and Wang arranged for Chin Ai Elementary graduates to attend Caotun Junior High School, which offers music lessons, but is 70km from Cinai, she said.
The couple borrowed money to buy a house in Caotun Township (草屯) to give the students a place to stay while they attended school and they drove children still attending Chin Ai Elementary to the house to practice with the older students at weekends, she said.
As many as 45 students live in the house at a time, Chen added.
Chen said that on Saturdays her husband drives students to music classes in other counties and cities from Miaoli County to Tainan, sometimes traveling more than 600km a day.
"He has to pick them up in the evening. So he often leaves home early and comes back at midnight," Chen said. "If there is a small commercial performance in another county or city, he and the students do not arrive home until early on Sunday morning or even Monday."
Wang taught himself to make and repair string instruments to support the orchestra, Chen said, adding that he buys foreign-language literature and supplies the group with handmade instruments and maintenance at a workshop he has set up in Cinai.
The workshop has obtained financial support from the government as well as corporate sponsors, which has helped to bridge the differences in educational expectations and views between the orchestra and parents, she said.
To keep the program afloat, Chen said that she and her husband sell CDs, oil paintings and souvenirs from the workshop to supplement donations.
If the orchestra continues to grow, she plans to create a conservatory in Nantou to provide free musical education and board for students of elementary and middle-school age, Chen said.
"The stereotype that only rich people study music needs to be challenged," she said.
"Heaven has been provident and gave us a tough but sure path," she added.
Comments will be moderated. Keep comments relevant to the article. Remarks containing abusive and obscene language, personal attacks of any kind or promotion will be removed and the user banned. Final decision will be at the discretion of the Taipei Times.