Tsai, Chu, Soong accused of kowtowing to business
VESTED INTERESTS: The three presidential candidates are surrendering leadership of their parties to big businesses which are attempting to enslave workers, Chang Li-fun said
The Green Party-Social Democratic Party Alliance yesterday condemned the three presidential candidates for agreeing to be "interviewed" by a coalition of seven industry and commerce organizations, saying the candidates are siding with business leaders to the detriment of workers' rights.
Democratic Progressive Party (DPP) presidential candidate Tsai Ing-wen (蔡英文) yesterday spoke at an economic development forum organized by the seven organizations in Taipei, with People First Party presidential candidate James Soong (宋楚瑜) to speak at a forum staged by the organization today and Chinese Nationalist Party (KMT) presidential candidate Eric Chu (朱立倫) to attend a forum held by the organization on Tuesday next week.
While Tsai said yesterday's meeting was not an interview, but an exchange of opinions, the alliance was not mollified.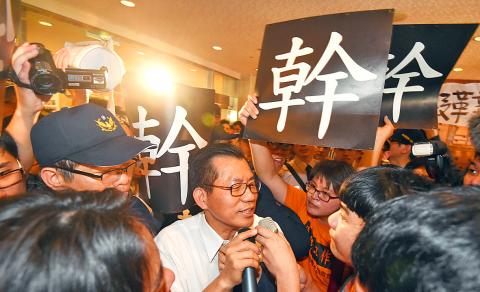 Democratic Progressive Party (DPP)Legislator Lee Ying-yuan, center, attempts to placate members of labor rights groups outside the Howard Plaza Hotel in Taipei yesterday.
Photo: Liu Hsin-de, Taipei Times
The seven organizations represent corporate interests and aim to persuade presidential candidates to seek trade liberalization, tax reductions, labor market flexibility and relaxation of environmental laws, and their agreeing to meeting with the organizations amounts to surrendering the leadership of their parties to big business, the alliance said.
One of the seven organizations, the Chinese National Federation of Industries, has called for the inclusion of measures favorable to business owners in a draft dispatch labor bill, and for adjustments favorable to industry to be made in response to the soon-to-come-into-force 40-hour workweek, which amount to an attempt to enslave workers, alliance legislator-at-large candidate Chang Li-fun (張麗芬) said.
"The 'industry 4.0' strategies business leaders have put forward are in fact attempts to exploit workers. Candidates should side with workers. There must be a voice representing workers in the legislature to end the rule of business groups," Chang said.
Organizations have no right to discuss labor policy and tax reforms, as the real tax rate of Kinpo Electronics Inc — owned by federation president Rock Hsu (許勝雄) — last year was 5.7 percent, much lower than the 12 percent income tax paid by a worker earning NT$500,000 per year, while Taiwan Federation of Industry chairman and Prince Motor Co Hsu Hsien-rong (許顯榮) still owes wages and pension to his employees, alliance legislator-at-large candidate Miao Po-ya (苗博雅) said.
"Presidential candidates should be interviewed by the nation's 9 million workers rather than a select few business leaders," Miao said.
The alliance called for a reduction in working hours, pay raises, the prohibition of dispatch labor and the improvement of labor unions so that workers are able to share in the economic spoils reaped by businesses.
Comments will be moderated. Keep comments relevant to the article. Remarks containing abusive and obscene language, personal attacks of any kind or promotion will be removed and the user banned. Final decision will be at the discretion of the Taipei Times.