Endangered bird found in Taipei returned to nature
A Siberian crane that was found near a train station in Taipei on Friday was sent back to its nesting grounds in New Taipei City yesterday.
Escorted by animal protection personnel, the bird, which is a member of a critically endangered species, was placed in a wooden box and transported to a wetland in rural Jinshan District (金山), about an hour's drive from Taipei, yesterday morning.
After carefully examining the bird to make sure no harm came to it, the personnel released it.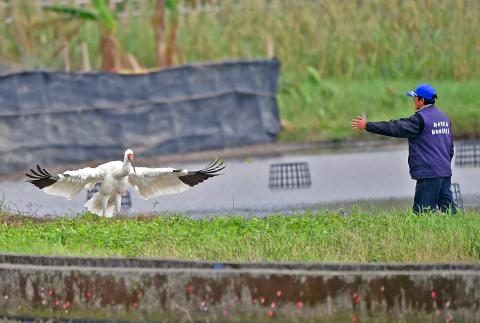 A staff member from the Taipei City Animal Protection Office yesterday gestures in front of a Siberian white crane after its release at a wetland in New Taipei City's Jinshan District. The endangered crane, which has become a celebrity in Taiwan after getting lost on its journey from Siberia last year, was released yesterday after it was found at Taipei's Songshan Railway Station on Friday.
PHOTO: AFP
Hung Cheng-chun (黃正俊), a local farmer who has been taking care of the bird since last December, said he was happy that his friend has returned.
Taipei City Animal Protection Office personnel said they believed that the bird lost its bearings and landed near Songshan train station, adding that people who found the bird took it to a shelter that belongs to the office.
It was later identified as the same bird that landed in Jinshan in December last year and has since made a temporary home there under the care of Huang, the office said.
The Siberian crane, also known as the Siberian white crane or the snow crane, is an endangered species of which scientists estimate only 3,000 to 4,000 remain.
The office said that it has performed a blood test on the bird and found no abnormalities.
However, another blood test taken by the Taipei Zoo showed that the bird's blood sugar and muscle enzyme levels were higher than normal, while its serum calcium levels and red blood cells were low, with minor muscle fatigue, the office said.
To help the bird recover, the zoo had dietitians prepare food, such as fish, snails, frogs and worms, for it to eat.
The bird's weight had increased 300 grams by yesterday morning, which indicated that it ate some of the food given by the dietitians, the office said.
After an examination by veterinarians, the office decided to send the bird back to Jinshan, it said.
Experts have been exploring the possibility of sending it to a winter habitat for Siberian cranes in central China before February, so the young bird can migrate back to Siberia at the end of winter in March along with other cranes, the office said.
Comments will be moderated. Keep comments relevant to the article. Remarks containing abusive and obscene language, personal attacks of any kind or promotion will be removed and the user banned. Final decision will be at the discretion of the Taipei Times.