MA-XI MEETING: DPP opposition to Ma-Xi exchange 'inappropriate'
The Democratic Progressive Party's (DPP) opposition to tomorrow's meeting between President Ma Ying-jeou (馬英九) and Chinese President Xi Jinping (習近平) is "inappropriate," Chinese Nationalist Party (KMT) presidential candidate Eric Chu (朱立倫) said yesterday.
The meeting would be a "significant milestone" in the development of cross-strait peace and stability, he said.
"I would hope that both the ruling and opposition parties could put aside ideology. More importantly, please refrain from interpreting [the meeting] with a political angle or accusing other people of being 'red,'" he said.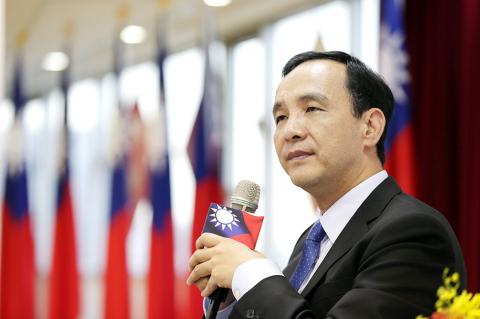 Chinese Nationalist Party (KMT) presidential candidate Eric Chu yesterday listens to questions during a press conference in Taipei.
Photo: EPA
"DPP city councilors, for example, yesterday in Tainan called the meeting an act of 'selling Taiwan,' which is highly inappropriate," Chu said. "And DPP Chairperson Tsai Ing-wen (蔡英文) also displayed an attitude that we do not understand."
"We should harbor a positive mentality to any cross-strait development and exchange," he added.
When asked whether he considered the meeting a possible boost to the KMT's election chances, Chu said the meeting should not be viewed in such a way.
"There was already discussion over a possible meeting during the 2013 APEC summit and the plan was also under deliberation last year," Chu said.
In an afternoon radio interview, Chu said he believes that major issues such as trade, flight routes or Southeast Asia would not be touched upon in the meeting.
"We do not need to have great expectations for this meeting," he said. "But the meeting itself is a breakthrough and milestone."
That the leaders of the two sides of the Taiwan Strait are set to meet and make either an announcement or consensus in principle that is advantageous to the cross-strait peace and economic development would be "meaningful enough," Chu said.
As for the agreement that Ma and Xi would address each other as "mister" instead of using their official titles, Chu said that the KMT and the Chinese Communist Party used to address each other using party position titles during exchanges, but because this time it would be a meeting between the political leaders of the two sides of the Taiwan Strait, it would be "better to address [each other] as mister than as leaders."
Comments will be moderated. Keep comments relevant to the article. Remarks containing abusive and obscene language, personal attacks of any kind or promotion will be removed and the user banned. Final decision will be at the discretion of the Taipei Times.