EU office supports gay pride parade
PRAISE FOR TAIWAN: The EU Office said Taiwan led the way in Asia in promoting rights of the gay community and that its members would take part in the pride parade
Officials from the European Economic and Trade Office are to attend the gay pride parade in Taipei today, handing out EU flags, of which the golden stars have been replaced with rainbow colors in a gesture of support to the gay community.
The sixth International Lesbian, Gay, Bisexual, Trans and Intersex Association (LGBTI) Asian region conference was concluded in Taipei yesterday, which was hosted by the Taiwan Tongzhi Hotline Association for the first time, with the EU's support.
The conference was attended by about 300 LGBTI activists from 30 nations, the association said.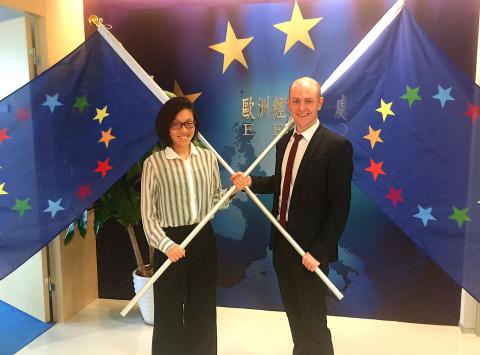 An EU official holds up an EU rainbow flag in Taipei yesterday to display the EU's support for today's Taiwan Pride Parade.
Photo: CNA
A statement by the office said that the EU feels that no matter their sexual orientation or sexual identification, people should enjoy basic human rights as proclaimed and guaranteed under the Universal Declaration of Human Rights.
"We hope that through multi-lateral discussions and support from the public we can further that goal," the office said, adding that it was one of the reasons why it was supporting the Taiwan Tongzhi Hotline Association in hosting the event.
The office said it hopes that the event would help promote the rights of LGBTI groups in Asia.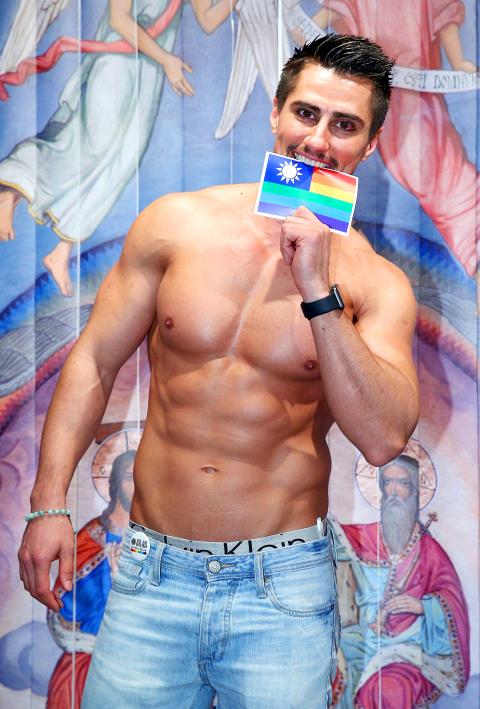 Father Silas of the Romanian Orthodox Church takes a bite of a postcard with a "rainbowed" Republic of China flag on it yesterday in Taipei, in support of today's Taiwan Pride parade.
Photo: CNA
According to sources, the office offered about 40,000 euros (US$44,131), or roughly NT$1.5 million, to help the association fund the conference.
"Just like in the EU, of course more can be done in Taiwan and in the region, but we hope that Taiwan will always be the leader in this area and will lead clearly from the front in ensuring that LGBTI rights are promoted and strengthened," said the head of the office, Madeleine Majorenko.
The office said yesterday that many of its members would be attending the parade today and would be handing out 600 EU flags with rainbow-colored stars on blue background, instead of the official gold-blue combination, to the attendees of the event to show the office's support for the LGBTI community.
Comments will be moderated. Keep comments relevant to the article. Remarks containing abusive and obscene language, personal attacks of any kind or promotion will be removed and the user banned. Final decision will be at the discretion of the Taipei Times.