Death sentence for MRT attacker upheld
The Taiwan High Court yesterday upheld the death sentence and revoked for life the civil rights of Cheng Chieh (鄭捷), who was convicted in March by a lower court of killing four passengers in a premeditated knife attack on Taipei's Mass Rapid Transit (MRT) system in May last year.
Judges on the High Court's Collegiate Bench upheld an earlier ruling finding Cheng guilty on four counts of murder, 13 counts of attempted murder and the attempted murder of nine under-aged persons.
Twenty-two-year-old Cheng, currently incarcerated at the Taipei Detention Center in New Taipei City's Tucheng District (土城), chose not to appear in court for yesterday's ruling.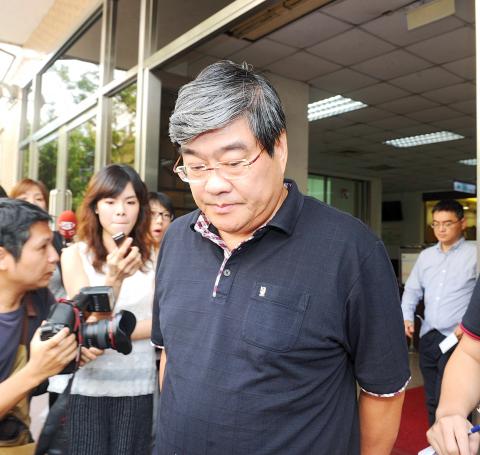 Li Jui-chang, the brother of a victim of last year's stabbing attack on the Taipei MRT, yesterday says in Taipei the public expects the perpetrator, Cheng Chieh, to be sentenced to death.
Photo: CNA
As yesterday's ruling was for the death sentence, the case must be appealed to the Supreme Court, according to the nation's judicial procedures.
After five months of deliberation, judges found that Cheng carried out the killings with cruelty and afterward did not show remorse. The judges said there is no likelihood of rehabilitation.
"When committing this crime, the passengers being attacked cried out in pain and others ran in panic. However, Cheng showed no mercy and seemed to feel no sympathy, but continued the attack," the judges' statement said, adding that Cheng seemed to show no compassion.
The judges said that the crime was premeditated by Cheng, and he took up physical training and carefully devised a plan to carry out the crime. Cheng seemed to feel no guilt and showed no remorse for his crime.
"His attitude was repugnant. Victims and families of victims to this day are unable to forgive Cheng for this crime," the judges said, giving reasons for upholding the first ruling.
The judges said that Cheng does not qualify for a reduction of punishment as someone with a mental deficiency or psychological disorder.
In addition, Cheng had been named in several civil lawsuits filed by victims, victims' families and Taipei Rapid Transit Corp for damages, which comes to NT$120 million (US$3.66 million).
Li Jui-chang (李瑞昌), whose elder sister, Lee Tsui-yun (李翠雲), was among four killed in the attack on May 21 last year, said the civil lawsuits are aimed at seeking justice and putting responsibility on Cheng.
"We all know there will be no compensation, because Cheng has no property or assets. His family has washed their hands of the responsibility by cutting off links with him," she said.
"I do not accept his apology [made at trial] at all. Cheng said it because his lawyer told him to. It was just acting, there was no sincerity in it," Lee said.
Comments will be moderated. Keep comments relevant to the article. Remarks containing abusive and obscene language, personal attacks of any kind or promotion will be removed and the user banned. Final decision will be at the discretion of the Taipei Times.